German NGO worker killed in Kabul amid multiple attacks by Taliban
Published time: 21 May, 2017 13:59
Edited time: 22 May, 2017 06:27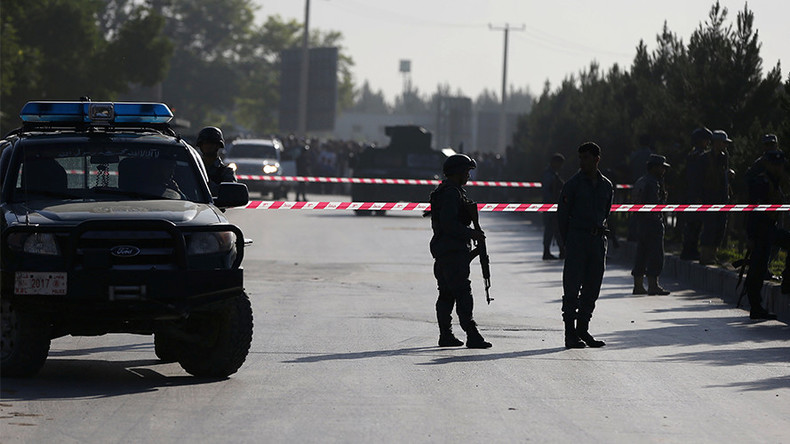 A German woman working for an international charity has been killed in Kabul, and another woman from Finland has been kidnapped. The incident comes amid deadly Taliban attacks on police checkpoints, which have left up to 20 Afghan officers dead.
The German woman was killed by unknown attackers in the Afghan capital, Kabul, the German Foreign Ministry confirmed, according to DPA news agency.
Another woman, said to be from Finland, is missing and has possibly been kidnapped, spokesman for the Afghan Interior Ministry, Najib Danish, said.
Both women were inside a guesthouse in Kabul and worked for Swedish relief organization Operation Mercy.
In the attack on the guesthouse, a private security guard was beheaded by assailants. Danish did not say if there was a terrorist or other criminal motive behind the assault.
Scott Breslin of Operation Mercy told local news agency TT that one of the NGO's employees was missing and that the group was holding a crisis meeting.
Karoliina Romanoff, a spokeswoman for the Finnish Foreign Ministry, also confirmed that a Finnish citizen was kidnapped, but did not elaborate. The foreign ministry released a statement demanding "the immediate release of the kidnapped person."
The incident took place just one day after Taliban militants killed up to 20 police officers at checkpoints across southern Afghanistan.
"This morning, a group of Taliban fighters armed with heavy and light weapons launched coordinated attacks on several police checkpoints in Shah Joy district of Zabul Province, killing 20 policemen," the provincial governor, Bismillah Afghanmal, said. He added that hundreds of militants took part in the coordinated attacks in Shah Joy and Deh Chopan districts.
At least 10 others were injured in fighting in Zabul Province on Saturday.
Earlier this year, Taliban launched a coordinated attack on NATO-trained Afghan forces, killing 135 troops in the northern city of Mazar-i-Sharif.
Despite more than 15 years of NATO military presence in Afghanistan, the war-torn country still remains one of the most dangerous places for Westerners.
Earlier, the German Agency for International Development (GIZ) relocated its office from central Kabul to a well-protected facility on the outskirts of the Afghan capital for security reasons.
In 2014, Germany's consulate in Mazar-i-Sharif moved to a German military base outside the city after an assault on the diplomatic mission.
Coordinated attacks on Western facilities have become common practice in Afghanistan. Such assaults are often staged as a show of force, but also to get ransom for kidnapped foreigners.