Germany to build centers in Morocco to deport underage refugees – report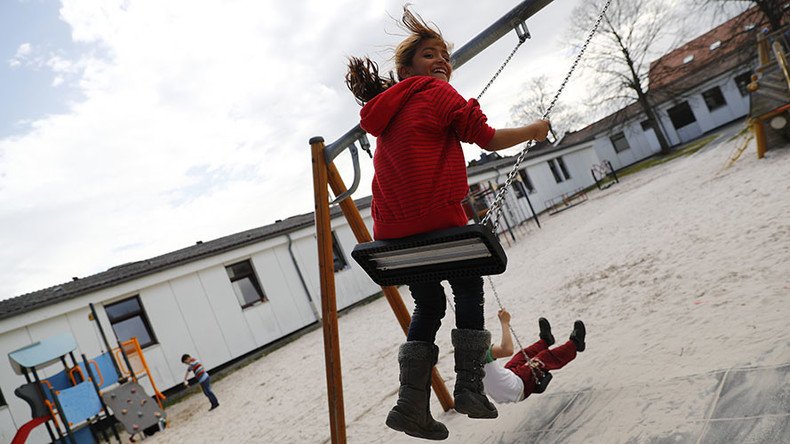 The German Federal Agency for Migration and Refugees (BAMF) plans to establish two reception centers in Morocco to which it can deport unaccompanied refugee minors that commit crimes in Germany, a German daily reports.
Each of the first two centers would have the capacity to host up to 100 underage refugees and provide them with necessary medical care, as well as offer schooling and some vocational training, the German Die Tageszeitung (taz) daily reports, citing a leaked BAMF program document that outlines various aspects of the project.
The paper says the project is still in the "early stages" of development, but notes that the construction of the centers is planned to start later in 2017. The project will remain in a "testing phase" until 2020. The construction and maintenance of each center will cost German taxpayers €960,000 ($1.05 million) per year, taz reports.
The German migration agency also plans to find some "appropriate NGOs" to run both Moroccan centers, which would develop "individual assistance plans" for each underage refugee sent to the facilities in cooperation with the BAMF.
The centers are also expected to accept homeless Moroccan minors to "give them an opportunity to stay [in Morocco] and to prevent potential illegal immigration to Europe." Unaccompanied underage asylum seekers that wish to leave Germany voluntarily would also be sent to the centers.
At the same time, details regarding the criterion for deporting unaccompanied underage refugee offenders from Germany to these centers remains unclear.
It is yet unknown what particular offenses would prompt Germany's immigration authorities to deport underage migrants or whether it would be a form of punishment.
According to the document, Germany also plans to ask some "appropriate EU countries" to take part in financing the project. So far, Sweden has been mentioned as a potential partner. Germany's federal authorities are already working with the regional government of the state of North Rhine-Westphalia on this matter, the paper adds.
While the BAMF refused to respond to taz's and Deutsche Welle's requests for comment, it referred them to the German Interior Ministry, which had already confirmed that there are plans to build centers for refugee minors in Morocco.
During a parliamentary inquiry in March, the ministry said the project was aimed at offering "some future prospects for minors who live in unfavorable conditions," adding that the centers could be "potentially used" to host "unaccompanied underage Moroccans, who should be deported from Germany."
According to the Interior Ministry, an NGO supported by Germany's immigration authorities would run the centers for three years. After that, the facilities would be handed over to the Moroccan government, as reported by Die Zeit daily.
'Irresponsible' initiative & 'dangerous precedent'
The project has already provoked a wave of criticism from a number of opposition politicians and refugee rights activists. Green Party MP Luise Amtsberg, who was behind the parliamentary inquiry in March, called the initiative "irresponsible."
"The key issues concerning how it will be done and to whom, exactly, it will be applied, as well as if it takes into account children's welfare, remain unclear," she said, as cited by taz. The MP added that development aid projects should not be linked to migrant deportation.
In March, Amtsberg welcomed the idea of "helping disadvantaged minors in Morocco on the ground," arguing that offering schooling in such centers was the "right approach." However, she warned that "if the support on the ground is, at the same time, coupled with the aim of deporting young people from Germany to supposedly safe Morocco, then these well-meaning ideas cannot be successful."
"Once again this shows, what the government labels as fighting the causes of fleeing is guided neither by human rights or, in this case, the well-being of children, but unfortunately serves only to shut people out," the MP said.
Her words were partly echoed by the deputy head of the Left Party's parliamentary faction, Heike Haensel, who said that development aid should not be mixed with "defense against migrants," adding that his faction opposes the idea of deporting minors.
In the meantime, the director of the Bavarian Refugee Council, Stephan Duennwald, called the initiative a "dangerous precedent," while questioning its legality. "This would break a taboo," he told Deutsche Welle.
"At the moment, minors can only be deported if they are put under the care of a legal guardian – that is, if the parents are standing at the airport to pick them up. If they're going to build [reception centers] there, it's legally and morally a very questionable business," Duennwald added.
He went on to say that "it is very difficult to monitor such projects at all," warning that Germany's immigration authorities could end up losing control over "what happens, how the young people are treated, and how you ensure that they stay there – if it's not supposed to be a closed home."
More than 60,000 unaccompanied underage refugees – asylum seekers under the age of 18 – now live in special centers in Germany, according to Die Zeit. The paper also said the German government plans to spend some €4 billion ($4.4 billion) on accepting and supporting refugee minors in 2017.
Almost 40,000 unaccompanied minors applied for asylum in Germany in 2016, Deutsche Welle reports, citing data provided by the BAMF. According to the German media, no underage refugees have been deported from Germany so far, although about 170 left voluntary last year under the German government's repatriation and reintegration programs.
You can share this story on social media: