Outcry from parents after refugee given shelter at children's day care center in Germany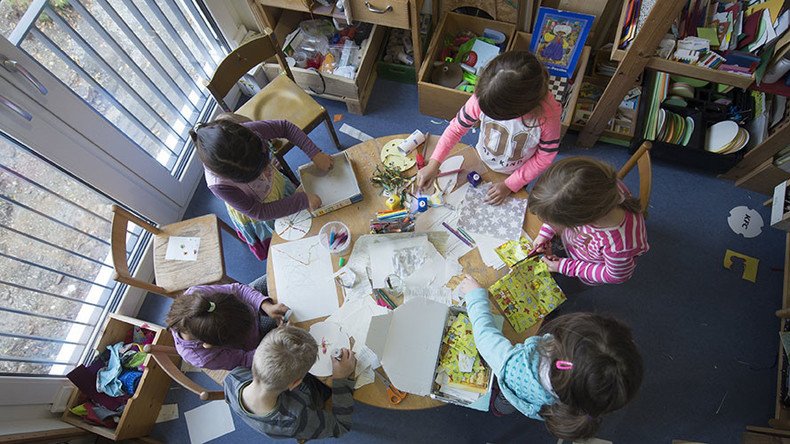 A protestant church community in Flintbek, northern Germany, has sparked anger among locals after giving shelter to an Eritrean refugee in the cellar of a children's center. Some parents said they were concerned for the safety of their children.
Parents argued that the children's day care center at the Evangelical Church of Flintbek was not a suitable place for refugees and asylum seekers, and that placing a refugee in the immediate vicinity of 82 children attending the kindergarten meant no guarantee their youngsters would be safe.
"Nobody – even the pastor – can guarantee that this possibly traumatized refugee who stays in the cellar without daylight for weeks won't have some kind of a short-circuit reaction," a worried mother told the Flensburger Tageblatt newspaper.
The parents' concerns apparently had no effect on Manfred Schade, a local pastor who advised them to choose another kindergarten if they didn't agree with the decision.
"Those who believe that the decision of the Ev. Church community of Flintbek was wrong may cancel their children's visits to the nursery if they think that this is a necessary step which we, of course, will regret," Schade wrote in a letter published in the Tageblatt.
It should not be accepted that "the weakest members of this society are publicly denigrated as potential threats or terrorists. We will oppose it," he added.
The refugee stayed in the cellar of children's day care center from early February but was then sent to another location.
Local administration head Rolf-Oliver Schwemer told Die Welt that after some parents had complained, he asked the community to host the refugee elsewhere. It was also found that according to legislation, the building "can't be viewed as a permanent residence facility."
Jürgen Schindler, spokesman for the Evangelical Lutheran community, told Sputnik Germany that the refugee from Eritrea had been placed at a youth center which also belongs to the church.
Commenting on the parents' concerns over the safety of their children, Schindler said: "You can see that some people view a refugee from Africa as a threat."
Security services have been on high alert in Germany since December 19, when a truck driver piled into a Christmas market in central Berlin, killing 12 people and injuring 56 others. Authorities obtained information that the suspected attacker, Anis Amri, a Tunisian, frequently visited a mosque, along with a video on his mobile phone that showed him pledging allegiance to Islamic State (IS, formerly ISIS/ISIL).
The head of Germany's domestic security agency, Hans-Georg Maassen, warned in March that a terrorist attack in Germany may actually occur "any moment," since the number of Islamists on the loose continues to rise.
"Islamist terrorist attacks in Germany may occur any time," Maassen, the president of the Federal Office for Protection of the Constitution (BfV), warned in a statement, adding that "the potential of violence-oriented Islamists in Germany is growing steadily and will continue to increase."
Maassen said that the German intelligence agency currently has as many as 1,600 people on its radar, and is registering more and more violent Islamists on its soil.
You can share this story on social media: