'US losing world leadership, Europe can replace it' – EU top diplomat Mogherini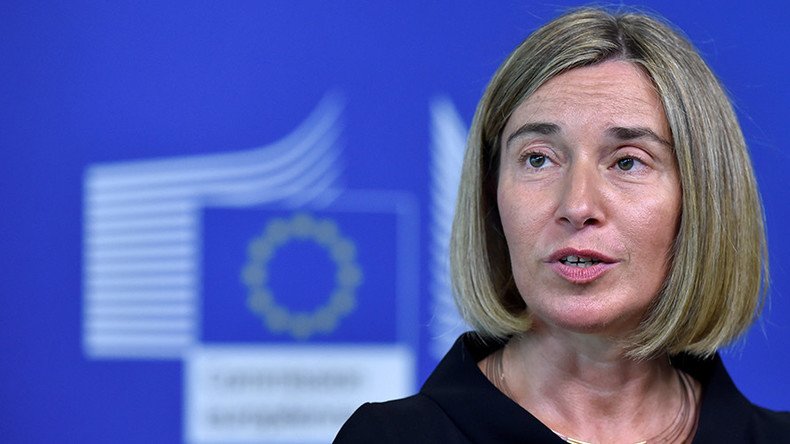 European Union foreign policy chief, Federica Mogherini, has criticized the "unpredictable" US foreign policy under Donald Trump, and says the EU can become the main international partner of Russia, India and China.
READ MORE: EU's Juncker says he'll stop 'speaking English' because it's losing importance
During a Q & A during a State of the Union conference in Florence, the EU's High Representative for Foreign Affairs was asked if Trump's "unpredictability" has given him an advantage in dealing with North Korea's volatility.
"Sometimes you can play with unpredictability and predictability that can surprise… but sometimes you can also scare. And sometimes it's too late to fix it. The European way is not that of playing," answered Mogherini.
In the wake of Washington's decision to bombard a Syrian airbase last month as well as the massing of US forces near North Korean shores, the Italian diplomat said the EU is seeking a more flexible approach.
READ MORE: 'Polarized & divided' US may become destabilizing factor for world – EU foreign policy chief
"One thing is true for the European Union that is not necessarily true for our partners in NATO and the US. We know very well that there is not one single security threat in our world that can only be faced with military means."
Mogherini said she was surprised during recent visits to Beijing, New Delhi and Moscow, that all these countries want a "strong EU" and desire closer ties "not just in economy and trade, but security and humanitarian development, climate change, and foreign policy."
"People want to work with European Union, not because they always like us… But in this geopolitical dynamic, being predictable, reliable and strong is an added value we should use," said Mogherini.

Mogherini said that Europe could "occupy the space" that is being vacated by Washington, which has enjoyed a thorny recent relationship with Brussels, over trade, NATO funding, and immigration.

"There is an opportunity for the Europeans and the European Union to position itself as a partner to all our interlocutors in the world, be it on the big global issues where maybe Washington is losing leadership," Mogherini said.
READ MORE: Schaeuble wants to convince Trump that Germany's trade surplus is good for America
Mogherini's comments comes amid the negotiations on the protracted process of Brexit, accompanied by vocal statements from both UK and EU officials.
With emotions running high on the terms of the UK-EU divorce, and a suggested hefty exit bill of up to €100 billion (£84.5 billion/US$110 billion) being discussed, both sides have been making self-assertive remarks and accusations.
Those included that of the UK Prime Minister, Theresa May, who claimed the EU was trying to "affect the result of the general election" in the UK on June 8, and May being allegedly described as "living in another galaxy" after putting London's expectations before European Commission President Jean-Claude Juncker during talks in late April.

Most recently, Juncker on Friday joked that he would stop speaking English because "slowly but surely, English is losing importance."
READ MORE: Trump better stop encouraging EU secession or kiss Texas goodbye, warns Juncker
You can share this story on social media: