EU-Russia 'strategic partnership' desired but surreal amid sanctions – Mogherini after Lavrov talks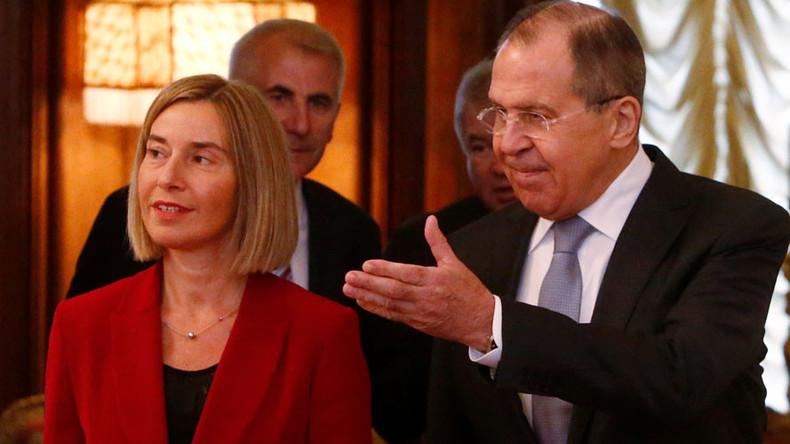 The EU would like to revive the "perspective of a strategic partnership" with Moscow, which however would be "surreal" while mutual sanctions remain, EU foreign policy chief Federica Mogherini has said after meeting with the Russian FM Sergey Lavrov in Moscow.
"Our bilateral cooperation is not frozen," Mogherini told journalists on Monday. "My visit here is the most evident demonstration of that."
"It is true that it is not any more what it used to be or what we would have liked it to be. For years, the European Union and Russia were working on the perspective of a strategic partnership. We would like to go back to a situation of that kind," the EU foreign policy chief said, noting however that it "would be quite surreal to consider each other strategic partners and have sanctions."
"Our sanctions are not an objective in themselves," Mogherini insisted, citing the issue of the "full implementation of the Minsk Agreements by all sides" as a precondition for lifting EU sanctions against Moscow.
Lavrov however questioned the very logic of sanctioning Moscow for the alleged failure to comply with the Minsk Agreements, amid all Kiev's attempts to sabotage the peace process.
"The apparent sabotage by the Kiev leadership of everything that is written in the Minsk Agreements should meet some reaction from those who patronize this government," Lavrov noted, speaking alongside the EU foreign policy chief.
Read more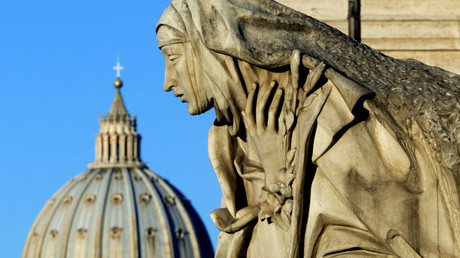 He pointed out that Ukraine "has been trying to change the agreements, radically rewrite them in order to achieve their goals, which may lead the process to a deadlock."
Kiev has been "avoiding direct dialogue with Donetsk and Lugansk, although it is written in black on white in the Minsk documents," he added, pointing out that the agreements similarly oblige the EU to influence the Ukrainian leadership.
"But, of course, if the position of the European Union is that everyone must fulfill their part of the obligations, the question arises: why sanctions exclusively against Russia?" Lavrov said.
The Russian Foreign Minister admitted that Russia and "the West are living through an uneasy period," but emphasized that Moscow is "still aimed at restoring full-fledged cooperation with the European Union, our largest trade and economic partner."
"We are open to go as far as you are ready to go," he added, noting that sanctions is an "artificial problem" hampering a Moscow-EU partnership.
The EU foreign policy chief said the EU and Russia decided to work together a number of key issues, including counterterrorism and the situation in Syria.
"We're ready to explore all possible fields of cooperation on the basis, as Sergey [Lavrov] mentioned, of a pragmatic assessment of our respective interests, and in many fields these interests coincide, both bilaterally, regionally and globally," she said.
READ MORE: Moscow has 'no naive expectations' about resetting ties with US – Lavrov
The Moscow exchange was "useful, constructive, positive, and for sure we will follow this up not only in the course of the day but also in the coming weeks and months," Mogherini added.
"We're determined to increase the level of coordination, cooperation, exploring possible ways in which Russia and the European Union can be useful in some of the crisis we are facing in the world of today. We live in difficult times, when not even one single inch or one single centimeter, to use European standards, of cooperation can be wasted or underestimated. So, we have the responsibility to do the utmost to find common ground, common solutions."