US deploys Global Hawk high-altitude drone to Japanese air base 'to monitor N. Korea'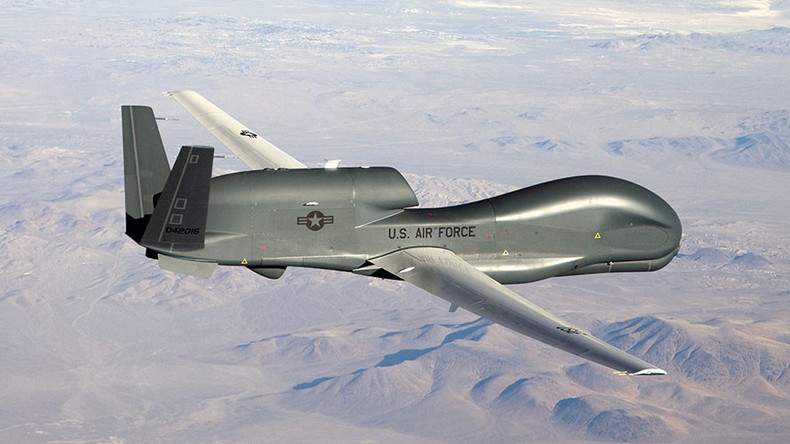 The US has sent a high-altitude surveillance RQ-4 Global Hawk drone to Japan, marking the beginning of a five-month deployment. It is expected to monitor moves made by North Korea, according to Japanese media.
The drone landed at Yokota Air Base in western Tokyo on Monday night, after flying from Andersen Air Force Base in Guam, the Japan Times reported.
According to Japanese Defense Ministry officials, the drone can capture aerial images and electronic data from an altitude of around 50,000 feet (15,240 meters) or higher.
It will be remotely controlled from Yokota during takeoff and landing. Once it reaches a sufficient altitude, it will be controlled from the US mainland.
The arrival of the drone, which is part of the 69th Reconnaissance Group Detachment 1, marks the beginning of a five-month mission for the drone. The US military said it will remain in Tokyo until October to avoid inclement weather in Guam, including typhoons.
"This rotational deployment of the Global Hawk is temporary but necessary to provide a base from which the platform can be reliably operated during the summer," the US Pacific Command wrote in a statement last month.
READ MORE: Trump says he'd be 'honored' to meet Kim Jong-un
It went on to state that the US "continues to deploy its most advanced capabilities to Japan, including the Global Hawk, in keeping with our commitment to further contribute to the security of Japan and to the stability of the region."
Japan's NHK broadcaster reported that the drone is expected to monitor moves made by North Korea, including ballistic missile launches, while it is stationed in Japan.
Four other Global Hawk drones and around 105 personnel currently based at Anderson Air Force Base in Guam are also scheduled to arrive at Yokota soon, according to US Pacific Command.
The cooperation between the US and Japan comes just days after Japanese fighter jets joined American aircraft for joint drills in waters off Okinawa, amid heightened tensions with North Korea.
US President Donald Trump and Japanese Prime Minister Shinzo Abe also held an informal telephone call on Monday, according to sources cited by the Japan Times. It followed three formal telephone meetings last month, all of which focused on the increasing threat posed by North Korea.
Trump has taken a hardline stance against North Korea since taking office in January, repeatedly vowing to end its nuclear and ballistic missile programs.
The White House has said that it hopes the issue can be dealt with diplomatically, with Trump saying on Monday that he would be "honored" to meet North Korean leader Kim Jong-un under the right circumstances. However, the Trump administration has also repeatedly stressed that "all options are on the table" when it comes to dealing with Pyongyang.
READ MORE: N. Korea vows to bolster its nuclear arsenal 'at maximum speed'
North Korea has responded to the Trump administration's actions by threatening to bolster its nuclear arsenal "at the maximum pace." Pyongyang also test-fired a ballistic missile on Saturday, which reportedly exploded just minutes after launch.