Trump says he'd be 'honored' to meet Kim Jong-un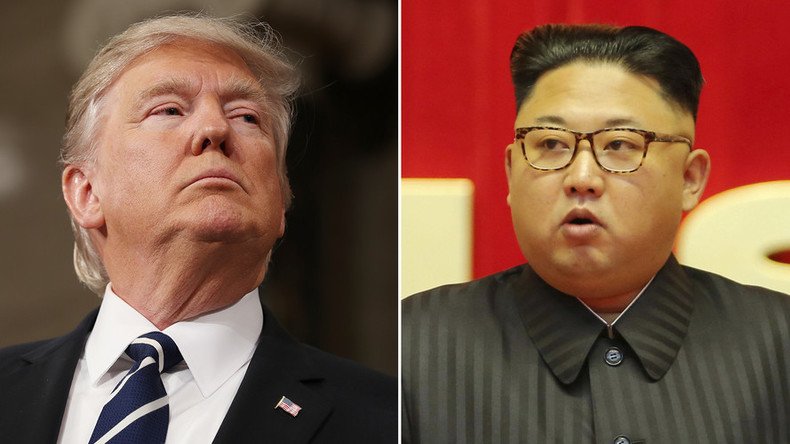 President Donald Trump has said he "would be honored" to meet North Korean leader Kim Jong-un under the right circumstances.
"If it would be appropriate for me to meet with him, I would absolutely, I would be honored to do it," Trump told Bloomberg News Monday. "If it's under the, again, under the right circumstances. But I would do that."
"Most political people would never say that," Trump said. "But I'm telling you under the right circumstances I would meet with him."
"We have breaking news," he added, likely referring to the news coverage his comments would garner.
Trump's surprising statements could spark rumors of a new "bromance" between the president and another world leader. The comments come only a day after Trump also described Jong-un as "a smart cookie," on CBS's Face the Nation Sunday.
READ MORE: Warfare trumps trade: Donald discusses North Korea, media, politics & Russia
North Korea is seen as one of the US's geopolitical adversaries. Tensions between the two nations have increased recently, following Trump's vow to stop North Korea from developing a nuclear weapon and Pyongyang's recent missile tests.
North Korea disrespected the wishes of China & its highly respected President when it launched, though unsuccessfully, a missile today. Bad!

— Donald J. Trump (@realDonaldTrump) April 28, 2017
Secretary of State Rex Tillerson told the United Nations on Friday that the US would only negotiate with Pyongyang if it took steps towards giving up its nuclear weapons and ballistic missiles and urged nations to cut diplomatic and financial ties.
Tillerson also told NPR that the US was open to holding direct negotiations should North Korea have the right agenda.
North Korea's missile test on Friday came hours after Tillerson's statements at the UN.
The US Congress plans to debate new sanctions against Pyongyang this week, targeting its shipping industry.
White House press secretary Sean Spicer addressed the comments at a press briefing Monday, highlighting Trump's statement that it would be "under the right circumstances."
"There's a lot of conditions that I think would have to happen with respect to its behavior, and to show signs of good faith," Spicer said. "Clearly the conditions are not there right now."
You can share this story on social media: