'Develop your country, not your WMDs': Australian FM hits back at N. Korea's missile threat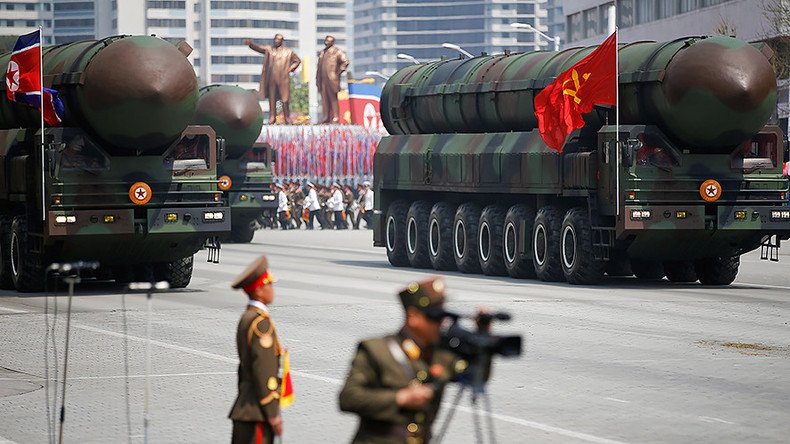 North Korea should focus on its citizens' welfare rather than building up its nuclear arsenal, said Australian Foreign Minister Julie Bishop, after Pyongyang warned that Australia was "coming in range" of a nuclear strike.
Speaking to the Australian Associated Press, Ms. Bishop accused North Korea of undermining peace and security in the Asia-Pacific.
"North Korea's threats of nuclear strikes against other nations further underlines the need for the regime to abandon its illegal nuclear weapons and ballistic missile programs," she told AAP on Sunday.
"These present a grave threat to its neighbors and if left unchecked, to the broader region including Australia.
"The North Korean government should invest in the welfare of its long-suffering citizens, rather than weapons of mass destruction," she added.
At a meeting with her Japanese counterpart in Tokyo last week, Ms. Bishop said that Australia supported the "United States' approach that all options [will be on] the table with regard to curbing North Korea's illegal and belligerent behavior," prompting a furious response from the North Korean government.
"If Australia persists in following the US moves to isolate and stifle the DPRK [Democratic People's Republic of Korea] and remains a shock brigade of the US master, this will be a suicidal act of coming within the range of the nuclear strike of the strategic force of the DPRK," a spokesman for North Korea's Foreign Ministry said on Saturday.
Tensions have been rising on the Korean peninsula since US President Donald Trump adopted a much harder line on Pyongyang than his predecessor, Barack Obama. The White House has repeatedly called on North Korea to abandon its nuclear and missile programs. The latest flare-up in rhetoric was triggered by reports that the North was about to conduct its sixth nuclear test or fire a nuclear-capable ballistic missile. Trump has dispatched the aircraft carrier USS Carl Vinson, along with a "very powerful armada," to the Korean peninsula, which Pyongyang has threatened to sink "with a single strike." The aircraft carrier and its fleet should arrive in Korean waters "within days," US Vice President Mike Pence said on Saturday.
Australian Prime Minister Malcolm Turnbull has pledged to support America's policy towards North Korea, and called on China to help resolve the situation. Earlier in April, China halted imports of coal shipments from North Korea, one of the isolated country's few sources of income, to comply with international sanctions imposed against Pyongyang because of its globally criticized missile tests.
You can share this story on social media: