Polls set to close in 1st round of French presidential election
Less than an hour is left until polling stations in France close for voting in a tight first round of the country's presidential race. Four of the eleven candidates are believed to have a realistic chance of winning a second round and moving into the Elysee Palace.
LIVE UPDATES: French presidential election 2017: Round 1
Sunday's election will determine the top two candidates, who will then proceed to a run-off vote on May 7. Francois Fillon of The Republicans, Emmanuel Macron of En Marche!, Jean-Luc Melenchon of La France Insoumise, and Marine Le Pen of the National Front are viewed as the top four favorites in the race.
Seven others are also vying for the title of president, including Benoit Hamon of the Socialist Party, Nicolas Dupont-Aignan of Debout la France, Nathalie Arthaud of Lutte Ouvriere, Philippe Poutou of the New Anticapitalist Party, Jacques Cheminade of Solidarity and Progress, Jean Lassalle of Resistons!, and Francois Asselineau of the Popular Republican Union.
By 5:00pm local time, the turnout stood at nearly 69.5 percent, the French Interior Ministry reported.
The French government has mobilized more than 50,000 police and gendarmes to protect 70,000 polling stations amid a high terror alert. An additional 7,000 soldiers are also on patrol. Meanwhile, polls opened on Saturday in France's overseas territories, allowing citizens to cast their ballots a day ahead of voters on the French mainland.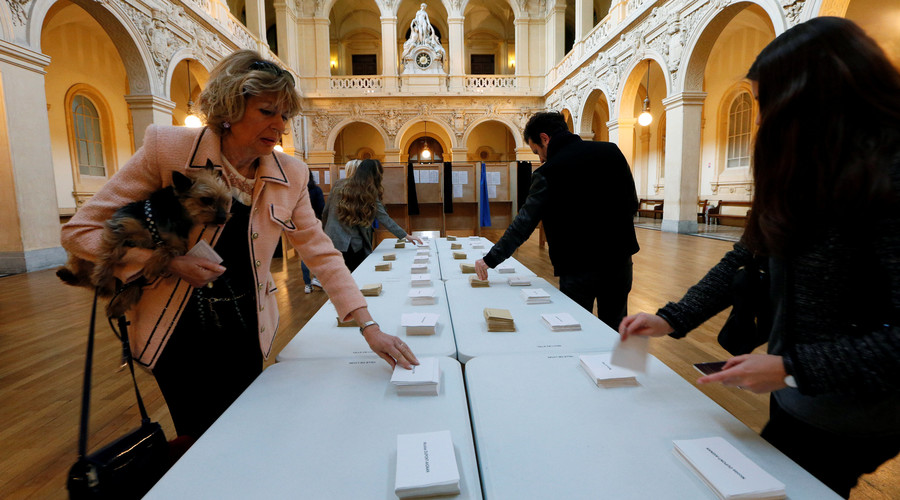 In the months leading up to the vote, the French media has been widely accused of adding or taking votes from some of the candidates through smear campaigns.
However, some French voters say their choices are not that easily influenced.
"They [the media] took sides, certainly. With their attitudes, with their questions... they absolutely took sides. At the same time, their attitudes were so grotesque that it played against them. In my opinion, they did not get what they wanted, because the people, the French are less stupid than they think," a voter in Paris told Ruptly.