'Tired of racism': Moroccan sets himself ablaze at Belgian courthouse (GRAPHIC VIDEO)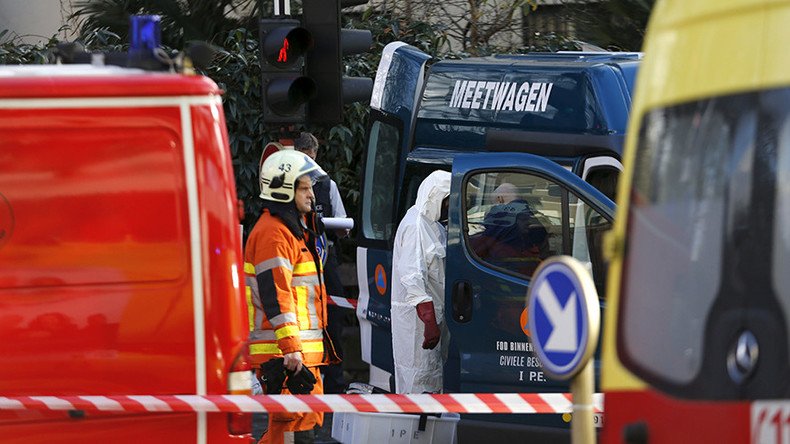 Footage has emerged online showing a man setting himself on fire outside a courthouse in the Belgian town of Kortrijk. The man earlier reportedly left a social media post saying he was "tired of racism," while police have called the incident an "act of despair."
The man, identified as a 38-year-old of Moroccan descent, left the courthouse on Tuesday and moments later returned with a canister of gasoline to a square right in front of the building, some 15 meters from the entrance, a police statement said.
As seen in the video, he then spilled some gasoline and lit it, before pouring some more on his jacket and setting it on fire. He then instantly ran towards police officers and firefighters who were already at the scene.
WARNING: GRAPHIC VIDEO
Local media reported that the man was taken to hospital in critical condition after receiving severe burns over 35 percent of his body.
Although police didn't disclose the man's name, Belgian newspaper Het Nieuwsblad referred to him as Chafik H.
Posts on social media from locals expressing their sympathy also suggested the man's name is Chafik Hanchi.
Police said they are still looking into the motive behind the desperate move, although the man had reportedly been facing difficulties in his personal life.
Jamal Qnioun, the head of the People Help People organization and a member of Council for Intercultural Coexistence in Kortrijk, shared a video on Facebook purportedly featuring Chafik in a car.
He apparently sent the video to Qnioun some hours before the incident, texting him in a separate message about his intentions, saying he could not carry on living.
Chafik reportedly had been going through a difficult patch, seeing his father recently pass away and experiencing financial troubles, as Qnioun described in the post.
In addition, one of the two Facebook accounts which allegedly belong to Chafik has a video posted on Monday, the day before the self-immolation.
The video title on Kapsalon Chafik's (Hairdresser Chafik) profile says he faced a problem with the national social security office, adding that he was "tired with racism."
After the local media broke the story, Qnioun, replying to multiple comments left under the respective post, wrote that Chafik had opened a hair salon that was later closed, as an inspection found an unregistered worker. Having paid the fines, Chafik again started his business and opened a new salon in the same street. However, days later he faced another inspection.
Qnioun went on to express his concern over the "harsh conditions" migrants endure in Kortrijk.
You can share this story on social media: