Saudi man makes bizarre attempt to set himself ablaze in front of Kaaba (VIDEO)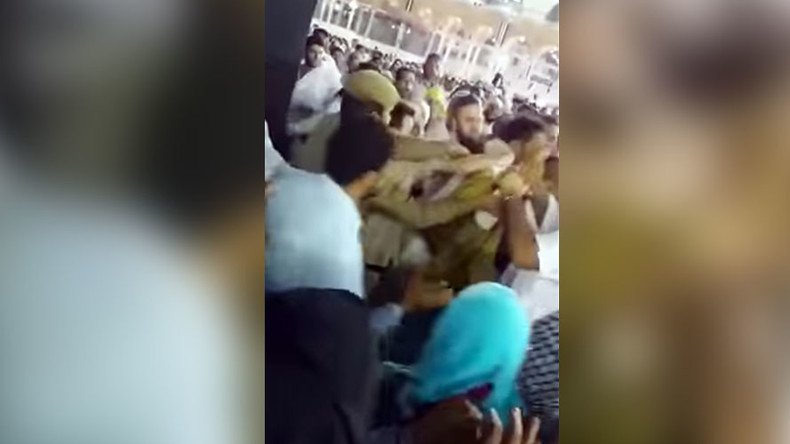 A Saudi man, believed to be in his 40s, was captured by police as he was pouring gasoline on himself near the most sacred site in Islam, the Kaaba, just moments before he was able to set himself ablaze in a crowd full of pilgrims.
The footage of the dramatic incident, which unfolded on Monday evening, shows the Grand Mosque's worshipers screaming in panic while several members of the public together with the security guards rounding up the man and restraining him.
While it is not clear what had triggered the suspect's apparent attempt at self-inflammation, Saudi police said he appeared to be suffering from mental issues.
"He was held before he went on with his dramatic self-immolation act and his behavior indicates that he is mentally ill," Major Sameh al-Salami, media spokesman for police, said in a statement on Tuesday, as cited by Press TV, adding that the appropriate legal action will be taken against him.
While the police have not shed much light on the possible motives of the suspect, they dismissed claims that the man had intended to inflict damage on the holy shrine.
Unconfirmed reports citing eyewitnesses said that the man aimed to set fire to Kiswah, a silk and gold curtain with embroidered verses from the Koran, which covers the Kaaba.
No group has immediately taken responsibility for the alleged attempt. Speculations pointed to a possible role of Islamic State (IS, formerly ISIS/ISIL), as the destruction of places of worship as well as cultural and historic sites is the group's signature tactic.
Back in 2015, the terrorist group's leader Abu Bakr al-Baghdadi encouraged his henchmen to destroy the historic monuments, calling such vandalism a "religious duty." In a radical interpretation of Islam, imposed by IS, no objects, including stones, should be idolized.
The call was echoed by Islamist preacher from Kuwait, Ibrahim Al Kandari, who lamented that "early Muslims who were among prophet Mohammed's followers did not destroy the pharaohs' monuments upon entering the Egyptian soil," adding that their mistake "does not mean that we shouldn't do it now."
READ MORE: Kuwaiti preacher, ISIS call for demolition of Egypt's Sphinx, pyramids

The Kaaba is a cube-shaped structure, built around a black stone, whose origin is traced back to the ancient times of Adam and Eve. Every year, millions of Muslims set off to Mecca on a pilgrimage known as Hajj. The Hajj is considered to be one of the five pillars of Islam, and is mandatory for every Muslim to undertake for at least once in a lifetime.
You can share this story on social media: