'Political scoundrels': Medvedev blasts corruption claims against him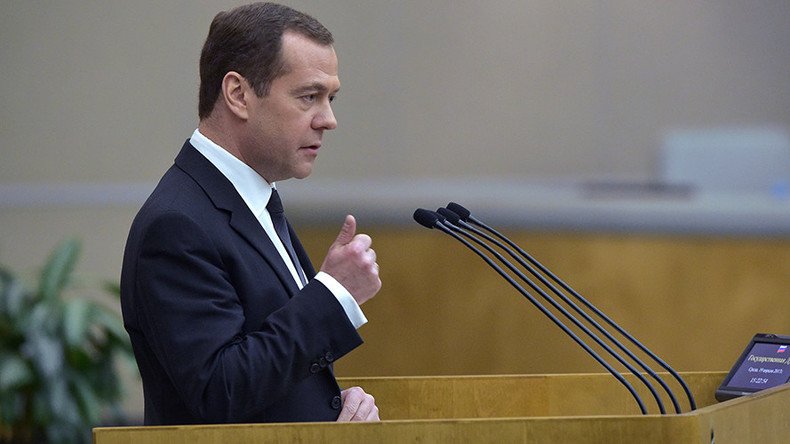 Russian Prime Minister Dmitry Medvedev refused to comment on corruption accusations against him by opposition figures during his report to the parliament on Wednesday, calling them "absolutely false products of political scoundrels."
Communist Party MP Nikolay Kolomeytsev asked the PM if he was doing enough "to fend off the attacks of [opposition activist Aleksey] Navalny."
"I've already addressed this issue, and I can repeat it to you too: I'm not going to comment on the absolutely false products of political scoundrels and I believe that the Communist Party of Russian Federation, which I respect, should also refrain from this," Medvedev said.
Navalny and his NGO Foundation for Countering Corruption released a video last month, accusing Medvedev of owning large amounts of real estate through businessmen and companies allegedly close to him.
The clip gained heavy traction on social media and was eventually used as the justification for unsanctioned protests in the capital and other Russian cities on March 26.
At the time, the protest organizers rejected the venue offered by the Moscow authorities, rendering the rally – in which thousands, including many minors, participated – illegal.

The gathering resulted in over 500 detentions by police, with Navalny sentenced to short-term administrative arrest for disobeying the law enforcers and organizing an unsanctioned protest.

Several of his associates received similar punishment, while four rioters are also on trial for assaulting police officers.
Earlier, Medvedev commented on the video with corruption accusations, saying that it had been compiled with the sole purpose of "trying to lure the people into the streets to achieve [Navalny's] own obvious political goals."
He denied the accusations against him and stressed that authors used the "hotchpotch principle" to create the clip, making it hard for an ordinary viewer to separate fact from fiction.
READ MORE: Unauthorized opposition protest was provocation, rally organizers lied to activists – Kremlin
They "take various trash and nonsense regarding myself, my acquaintances and the people I've never heard of, regarding places where I've been and the places I also never heard of, collect some papers, photographs and clothes, then put together a product and present it to the public," he explained.
One of Russia's richest men, Alisher Usmanov, who was mentioned in Navalny's clip along with Medvedev, has filed a lawsuit against Navalny.
READ MORE: Billionaire businessman to sue Navalny for slander
Usmanov has no financial claims, but wants Navalny to retract the false information about him in the video. A Moscow court will begin preparations to review the case in May.
You can share this story on social media: