Pitting minors against police 'almost a crime' – PM Medvedev on anti-corruption protests
Published time: 4 Apr, 2017 19:38
Edited time: 5 Apr, 2017 10:42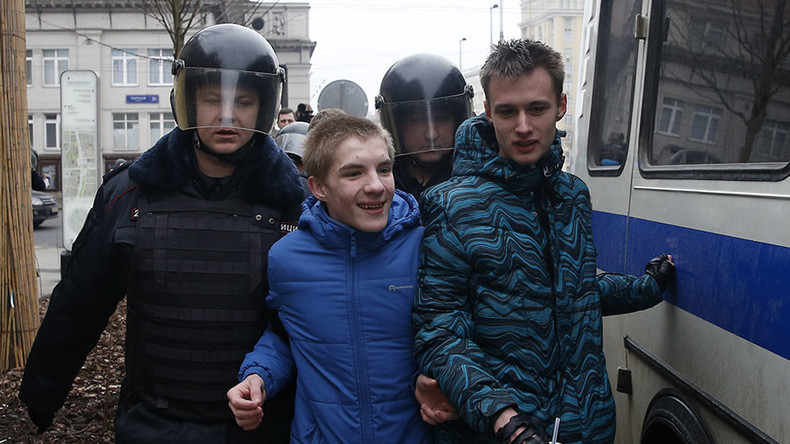 The organizers of illegal protests in Russia pursued selfish political interests and didn't hesitate to make minors hostages of their political program by persuading them to come out onto the streets, Russian Prime Minister Dmitry Medvedev said.
During a visit to a meat processing plant in Russia's Tambov Region on Tuesday, Medvedev was asked to comment on a recent video posted online by opposition activist Aleksey Navalny and his team, in which the PM is accused of corruption.
The clip was heavily promoted on social media and eventually was used as the justification for unsanctioned protests in Moscow and other Russian cities in late March.
Such videos are being ordered by "people with very specific political goals," said Medvedev, who has previously denied all corruption accusations.
"They are, of course, trying to show that the government is behaving badly, and that they are better than the others," he said.
According to the PM, the creation of such clips requires "large sums of money" that are being provided by private sponsors.
Their authors use the "hotchpotch principle," Medvedev said, explaining that they "take various trash and nonsense regarding myself, my acquaintances and the people I've never heard of, regarding places where I've been and the places I also never heard of, collect some papers, photographs and clothes, then put together a product and present it to the public."
The footage is compiled in such a manner that it's hard for an ordinary viewer to separate fact from fiction, Medvedev said.
"It would've been fine if a concrete agenda wasn't behind it," the PM said. "[But their] agenda includes trying to lure the people into the streets to achieve their own obvious political goals."
The PM refrained from mentioning Navalny by name, but said that "this character, which you, apparently, have in mind, he openly says: 'Everybody is bad, elect me president.' Without any shyness."
"And for this purpose, he drags people into the streets, with minors very often being among them. In my view, that's almost a crime to make them hostages of his own political program. And the character is known to have a criminal record and in this regard, there should be no illusions," he said.
Medvedev said that the young people are "being dragged out" into the streets via social networks "under certain slogans, and, unfortunately, in violation of the law."
"In fact, they are being set up to face the law enforcement machine, and they suffer because of this. This is a dishonorable stance," he said.
READ MORE: Unauthorized opposition protest was provocation, rally organizers lied to activists – Kremlin
On March 26, Navalny initiated protests in Moscow and several other Russian cities to demand a response from the government to his accusations against Medvedev.
When the rally was being planned, the opposition activist rejected the venue offered by the Moscow authorities. This made the event, at which 8,000 people showed up, an illegal gathering.
READ MORE: Thousands take to streets in opposition rallies across Russia (VIDEOS, PHOTOS)
As a result, police detained over 500 people in the capital for violating public order and public protest laws. One police officer was injured in clashes, with Navalny and several of his associates sentenced to short term administrative arrest for participating in unsanctioned protests.