Unauthorized opposition protest was provocation, rally organizers lied to activists – Kremlin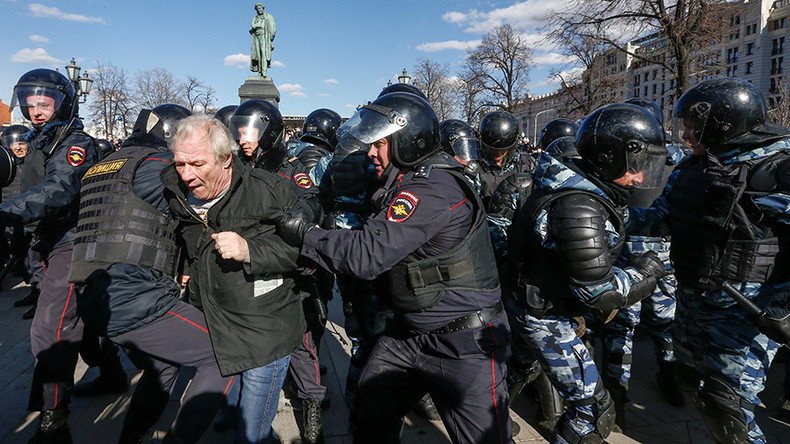 Organizers' claims to activists that Sunday's rallies in Moscow and at some other locations were sanctioned were "false and provocative," the Kremlin spokesman says, following a thousands-strong opposition rally in the center of the Russian capital.
He added that the Russian government was not concerned with the protests as such, but that using public anger over the perceived corruption of Prime Minister Dmitry Medvedev to make people act in violation of the law was a serious issue.
"In fact what we saw yesterday in some places, particularly in Moscow, was provocation and lies, because those who claimed on the previous day in pseudoacademic language that the event was lawful and in no way violated the law – they were telling blatant lies," Dmitry Peskov told journalists on Monday.
READ MORE: Hundreds detained at unsanctioned opposition rally in central Moscow (VIDEOS, PHOTOS)
"The Kremlin respects the civil position of the people and their right to express this position… But we cannot respect those who deliberately misguide people, those who did it yesterday and the day before yesterday, provoking them into illegal activities," he said.
"We cannot respect those who deliberately misguided minors, children in fact, by agitating them, promising certain rewards for taking part in an unsanctioned event, exposing them to harm," he added.
The Russian Investigative Committee said on Monday that it has evidence that the organizers of an unsanctioned rally in Moscow offered monetary incentives for taking part, which particularly targeted underage participants.
Peskov also rejected calls by foreign countries and organizations, particularly the US and the Council of Europe, to release protesters detained on Sunday. The spokesman said that Russia's international commitments "do not transfer into an obligation to violate its own law."
On Sunday, a series of opposition rallies were held across Russia to protest the alleged corruption of PM Medvedev, which had been reported weeks earlier by opposition figure Aleksey Navalny. Many of the protests were in violation of Russian regulations on public gatherings, which require organizers to receive permission from the authorities to avoid schedule conflicts and overcrowding.
The event in central Moscow was one of the unsanctioned rallies. The mayor's office suggested two alternative sites for the protest, but organizers rejected them and called on their supporters to come to the original location, despite the ban. Police detained some 500 people during the protest, which involved some 8,000 people, according to police estimates.
Navalny was among those detained and is now facing charges of organizing an illegal rally. During a court hearing on Monday, he argued that the alternative locations were offered too late to inform supporters, and that therefore protesting at the location he and other organizers originally requested was lawful.
"I went as was my right. There was nothing unsanctioned about it. The people were calmly going down Tverskaya Street [in central Moscow], and I was detained for some reason. I did not break any law," he argued during the proceedings.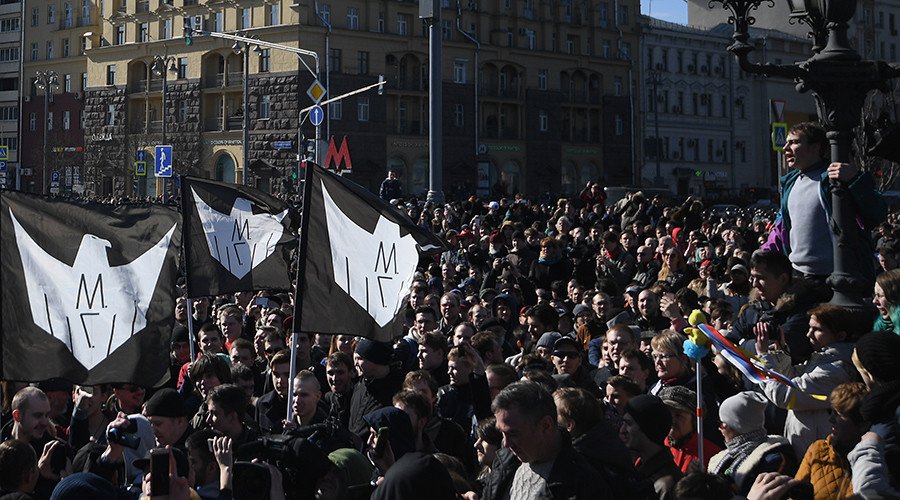 Peskov said it was regrettable that people wishing to protest were not informed about the alternative locations.
The handling of the rally has been criticized by some foreign nations and organizations. The EU claimed that the Russian police "prevented the exercise of basic freedoms of expression, association and peaceful assembly, which are fundamental rights enshrined in the Russian constitution."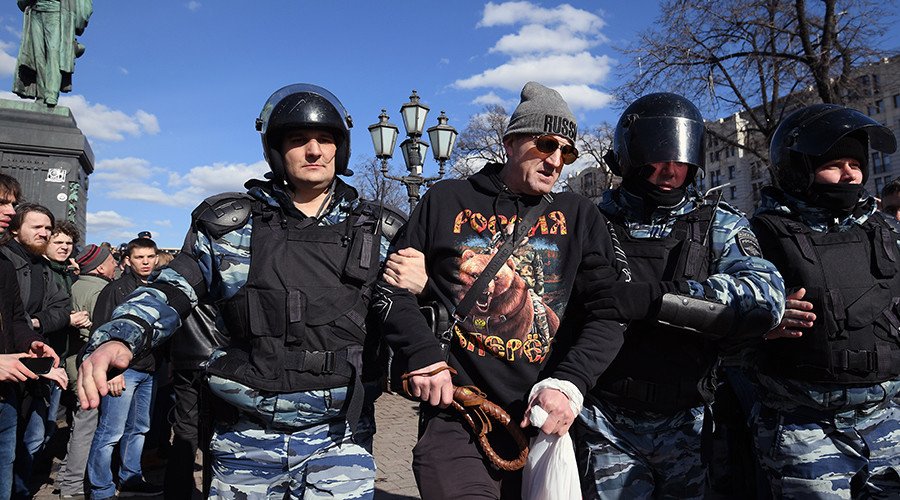 Russian Foreign Minister Sergey Lavrov called the criticism over the detention of protesters an example of double standards.
"When the same sort of events leads to different reactions, one can only think about double standards," he said. "I don't recall anyone publicly expressing outrage over the decisions that were taken not long ago in Austria, the Netherlands, [and] Germany, where the authorities decided to ban certain rallies."
He was referring to the bans imposed in several European cities on rallies sponsored by the Turkish government. Ankara was angered by obstructions to its campaigning for a referendum which would add further powers to the office of the Turkish president.
WATCH MORE:
You can share this story on social media: