'Trump wouldn't become a billionaire if he were stupid' – Duterte praises US president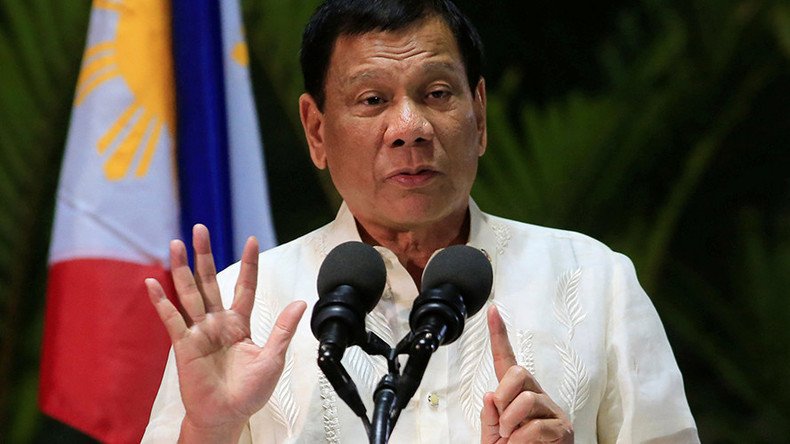 Philippines' strongman Rodrigo Duterte has expressed his support for the US President calling him a "pragmatic thinker" and pointing out that Donald Trump simply would not have become a billionaire if he were stupid.
Duterte's comments came while meeting the Filipino community in Qatar on Saturday. "Trump is a realist, a pragmatic thinker," The PhilStar daily quoted Duterte as saying.
The Philippines leader compared his widely-known controversial speech manner with Trump's, noting, however, that unlike him, Trump was a deep thinker, as quoted by Rappler news outlet.
READ MORE:Philippines' Duterte calls Obama 'idiot,' impersonates Trump 'endorsing' his war on drugs
"You just think that you know, both of us pretend that if we're insulted, we speak that way. But they don't know that in the case of Trump, he thinks deeply," Duterte said while speaking Filipino.
Duterte stated that if Trump was "stupid," he would not become a billionaire. To prove his point he cited the Trump Tower building in New York.
"Have you seen his building? How can he be stupid?" he asked the laughing audience. "That's true. Trump is a deep man, he just pretends otherwise. Like me, I'm not really very bright."
While US-Philippines relations have been quite turbulent since Duterte assumed office last June, his attitude towards the new US President differs drastically from the attitude towards the previous one.
READ MORE: 'I'm just small molecule compared to Trump' – Duterte
The Philippines strongman has repeatedly insulted Barack Obama, calling him a "son of a b*tch" and an "idiot" and continued his tirade even after the end of Obama's term.
Duterte has repeatedly expressed his support and admiration for Trump, and even compared himself to the American President, saying he (Duterte) was merely a "small molecule."
He also impersonated Trump on several occasions, citing last December's conversation between the two leaders, when Trump allegedly expressed support for Duterte's actions and specifically his brutal war on drugs using quite a strong language.
The Philippines leader did it again during the meeting on Saturday, as he recounted that phone conversation. "You are doing it right," Duterte said, mimicking an American accent.
You can share this story on social media: