'I'm just small molecule compared to Trump' – Duterte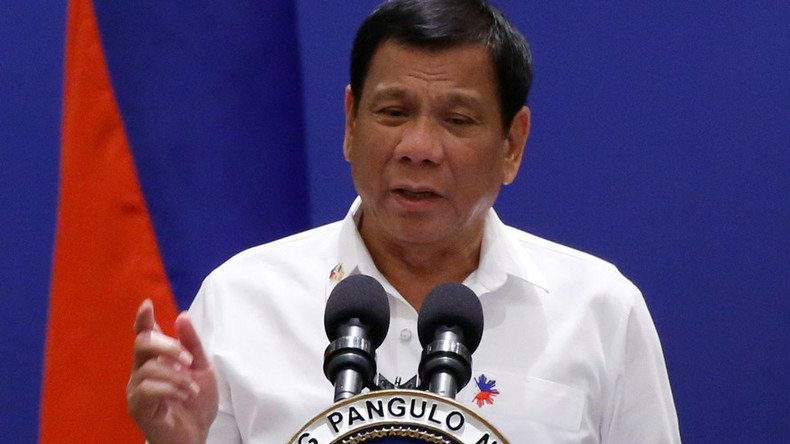 Controversial Philippines leader Rodrigo Duterte has said that compared to Donald Trump he is just a "small molecule." Duterte, known for his harsh rhetoric toward outgoing US President Barack Obama, has hailed Trump's election victory.
"I'm just a small molecule on this planet, he's now the president of the most powerful country in the world," Duterte is cited as saying by ABS-CBN News.
"I am just a president struggling barely above the water," he added.
According to Duterte, he and Trump share the same "passion to serve" the people of their respective countries.
The Philippines leader expressed confidence that Washington will remain Manila's "friend" and "ally" under the new US president, adding that all bilateral agreements between the states will be respected.
"The respect should be there, and in all matters that would affect our two countries, especially the treaties that we signed with them, and there are so many agreements, it will be honored, all of these things," he stressed.
Duterte also congratulated Trump after his shock win in the US presidential race on Wednesday, saying "May you live long, Mr. Trump."
"We both like to swear. One little thing, we curse right away, we're the same," he said of the similarities.
"I don't want to fight now that Trump's there," Duterte added, hinting at his strained relationship with Obama.
The Philippines leader has slammed the outgoing US president on numerous occasions for his perceived attempts to lecture Manila, calling Obama "a son of a whore" and telling him to "go to hell."
READ MORE: Philippines to reduce number of joint drills with US
He announced the cancelation of military exercises between the Philippines and American forces, but softened his stance shortly afterwards.
Washington has largely opted to play down Duterte's insults to avoid jeopardizing the relationship with a key Southeast Asian ally.
You can share this story on social media: