'Fools & monkeys': Duterte slams US for halting rifles sale, promises to turn to Russia & China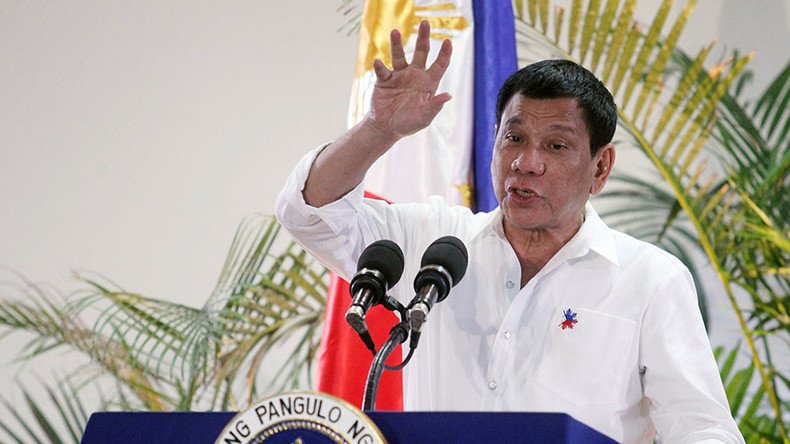 The Philippines may turn to Russia or China for arms supplies, its controversial president, Rodrigo Duterte, has said after Washington halted the planned sale of 26,000 rifles to the country.
"Look at these monkeys, the 26,000 firearms we wanted to buy, they don't want to sell," Duterte said during a televised speech on Wednesday.
"Son of a b****, we have many homemade guns here. These American fools," he added, as cited by Reuters.
According to the president, the Philippines may well find other sources to buy weapons if the US refuses to cooperate.
"Russia, they are inviting us. China also. China is open, anything you want, they sent me a brochure saying we select there, we'll give you," he said.
"But I am holding off because I was asking the military if they have any problem. Because if you have, if you want to stick to America, fine," Duterte added.
The Philippines leader, who has a reputation for bad-mouthing Americans, said that he was "rude" to the US because "they were rude at me."
He stressed that he used to believe in Washington, but has recently lost any respect for America.
The Philippines and the US enjoyed more than 60 years of partnership, with Manila being the closest American ally in the region, next to Japan.
The US State Department halted the sale of the M4 assault rifles to Philippines police after Democratic Senator Ben Cardin promised to oppose the move, Senate aides told Reuters.
The aides said that the Senate Foreign Relations Committee member was concerned about reported human rights violations in the bloody war on drugs initiated by Duterte in the summer.
READ MORE: US shouldn't treat Philippines like 'dog with leash' – Duterte
According to different estimates, between 2,300 and 4,700 people have been killed in police operations or by vigilantes during part of the campaign, as the president introduced a shoot-to-kill policy in the police and urged the population to attack criminals.
On Tuesday, the Philippines police chief, Ronald dela Rosa, expressed disappointment over the failure of the deal with the US, saying that M4 rifles were "reliable."
The latest outbursts from Duterte came just a few days after he promised to stop swearing, saying that God had ordered him to do so while he was on a plane returning from a visit to Japan.
"While on up there on my way here, I heard a voice telling me to stop swearing or the plane will crash in midair, and so I promised to stop," he said, according to the Philippine Daily Inquirer.
Since taking office in June last year, Duterte has made plenty of controversial statements about the US, calling President Barack Obama "a son of a whore" and urging America to stop treating the Philippines like "a dog with leash."
Washington has largely opted to play down the insults to avoid jeopardizing the relationship with a key Southeast Asian ally.
You can share this story on social media: