Duterte impersonates Trump during UN Convention speech (VIDEO)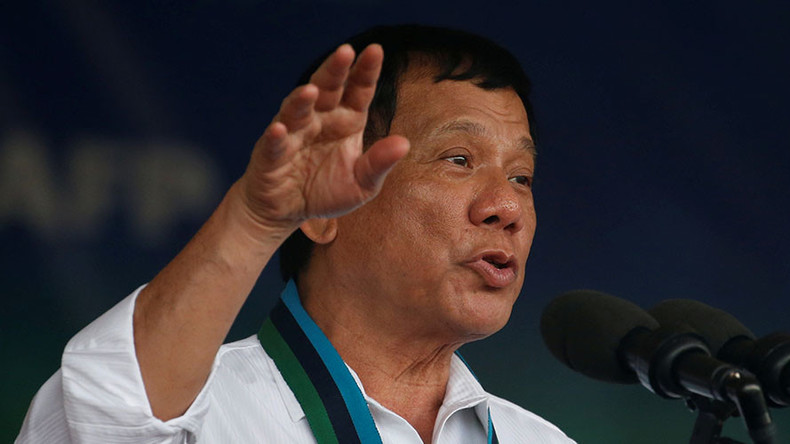 Alec Baldwin may have some competition after footage emerged of Philippines President Rodrigo Duterte impersonating Donald Trump during a speech. He claimed the president-elect sought suggestions on how to solve this "goddamn son of a b*tch."
While speaking at the UN Convention Against Corruption in Manila on Wednesday, Duterte claimed Trump told him during a phone call that he was "doing great."
"I know you worry about Americans criticizing you. You're doing good go ahead. I had this problem on the border of Mexico and America and this goddamn sh*t," Trump reportedly told Duterte.
"No media supported me and I did it on my own," Trump added, according to Duterte, who mimicked an American accent, reportedly resulting in laughter from those in attendance.
He also claimed Trump told him to "look me up" when he is in Washington and that they should meet for a coffee. "Maybe you can give me a suggestion for how to solve this goddamn son of a b*tch," he claimed the president-elect said.
READ MORE: 'No more cursing, or I'll bring this plane down,' Duterte hears God say
Duterte warned that if the US wanted to be "an Obama" they would "suffer the consequences" but that if they choose Trump "you know Trump, but at least he's my friend."
President Barack Obama has come under criticism from Duterte, who has called him a "son of a whore" who can "go to hell" over allegations of mistrust from the US, including their alleged refusal to sell weapons to the Philippines.
The Philippines president has enjoyed a warmer relationship with Donald Trump, speaking on the phone on December 2.
Duterte previously claimed Trump praised his controversial methods of dealing with drug users and dealers, saying it was the "right way."
READ MORE: US 'supports' Philippines war on drugs, remains 'steady & trusted' partner – senior US diplomat