Oslo court extends arrest of Russian teenager suspected of terrorist activity
Published time: 10 Apr, 2017 21:51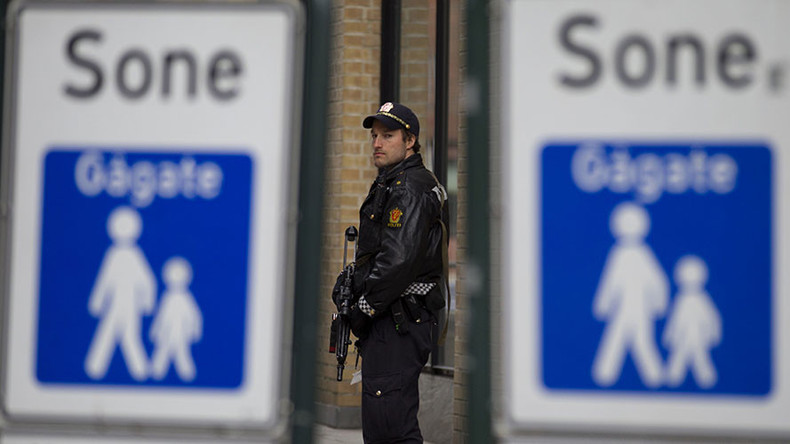 A court in the Norwegian capital has authorized a two-week arrest for a Russian national, suspected of plotting an attack with a device that allegedly contained "strike elements," state media reports citing officials.
The 17-year-old teenager, whose name has not been disclosed, was detained in Oslo on Saturday.
He is from Russia's southern Caucasus region, Reuters reported, adding that he came to Norway as a 10-year-old with his family and had applied for asylum. The Russian embassy in Norway confirmed that the detained teenager is a Russian national living in the Scandinavian country with his parents.
Following a court hearing on Monday, authorities in Oslo decided to extend the teenager's detention, having accused him of illegal possession of explosive materials, Norway's state NRK broadcaster reported.
The suspect was in possession of a device made of a "gas cylinder and strike elements," the media outlet reported.
Visitors or media interviews have been prohibited for the time the teen is under arrest.
Most of the hearing was conducted behind closed doors.
The young man was detained by police on Saturday night, after a witness alerted police of a person with a suspicious package, according to media reports. A bomb squad was deployed and the small object was destroyed with no one hurt in the incident. The teenager was later accused of possessing a primitive explosive device.
Norwegian police requested to keep the teenager in detention while investigating suspicions that he was plotting an attack with a "bomb-like" device. Under Norwegian law, two weeks is the maximum period allowed for a minor to be detained while being investigated under anti-terrorism laws.
The teenager's lawyer says the suspect pleads innocence.
"He is accused of having placed an object in a public place in Oslo. Security services thought that he was going to activate it. He says he was not going to harm anyone and that the object was of no particular threat," Aase Karine Sigmond told RT Russian.
The lawyer told Reuters the teen's actions were "a boyish prank."
Sigmond also told RT Russian that the teenager "considered himself to be a Norwegian." He was not going to apply for assistance to the Russian embassy, but was willing to cooperate with Norwegian authorities, she said. The young man denied talking to Russian diplomats, with the denial affirmed by the Russian embassy in Oslo.