Suspect detained after police detonate 'bomb-like device' in central Oslo (PHOTO, VIDEO)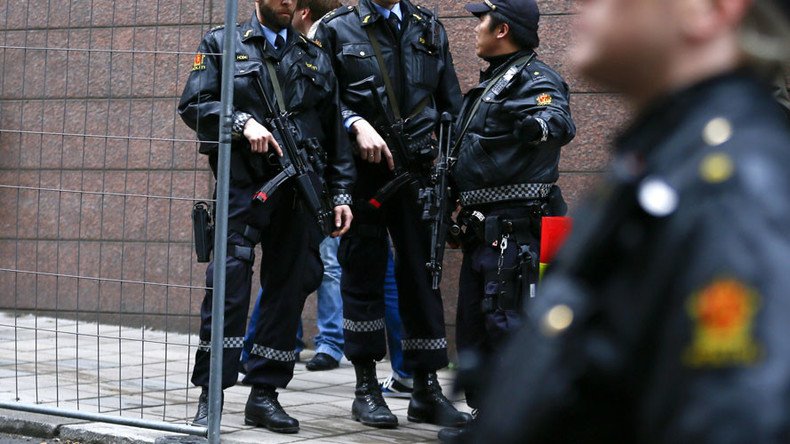 Norwegian police evacuated a large area in the Gronland neighborhood in downtown Oslo after a suspected explosive device was discovered late Saturday. Police conducted a controlled explosion of the device and have detained a 17-year-old suspect.
The suspect, said to be an asylum-seeker from Russia who came to the country in 2010, was arrested on suspicion of possessing explosives. The young man is being questioned as a suspect, Oslo police said on their official Twitter page, but the youth's culpability and motive have not yet been established.
"It is unclear whether the 17-year-old was planning to carry out a terrorist attack," Norwegian Police Security Service (PST) chief Benedicte Bjornland told a news conference.
"PST is now working on finding his intentions and find out whether others are involved," added chief prosecutor Signe Aaling, as quoted by AP
Police have conducted a controlled detonation of the suspicious object, police spokesman Svein Arild Jørundland told VG, adding that at the moment it is unknown whether the device actually contained any explosive elements.
However, he noted that the blast appeared to be more powerful than expected in case of an ordinary detonation, adding that bomb disposal experts have been examining the aftermath of the explosion.
"The noise from the blast was louder than our explosives themselves would cause," a police spokesman was quoted by Reuters.
Eyewitnesses reported that a large number of police cars and ambulances were called to the area.
Police earlier said on Twitter that they believe the device "does not have a huge potential for injuries."
The suspiciously-looking item was found near a bridge on Grønlandsleiret, one of the Norwegian capital's main streets, Jørundland told VG, adding that a bomb squad has been dispatched to the scene.
The PST has raised the terrorist threat level in the country from "possible" to "probable" for the next two months, Bjornland told journalists.
You can share this story on social media: