70k rally against new Hungarian govt rules targeting Soros-funded college (VIDEO)
Some 70,000 people have protested in Budapest against legislation that could force the Central European University (CEU), founded by the Hungarian-born American billionaire George Soros 25 years ago, to move out of Hungary.
Protesters, many of them students, filled the entire square outside the parliament, which was heavily defended by police, some in riot gear. Some behaved aggressively toward police and a crew from public television news channel M1, Hungarian news agency MTI reported.
The large crowd marched across a bridge over the River Danube, urging President Janos Ader to review the new law adopted by parliament last week that is bound to trigger the closure of the CEU.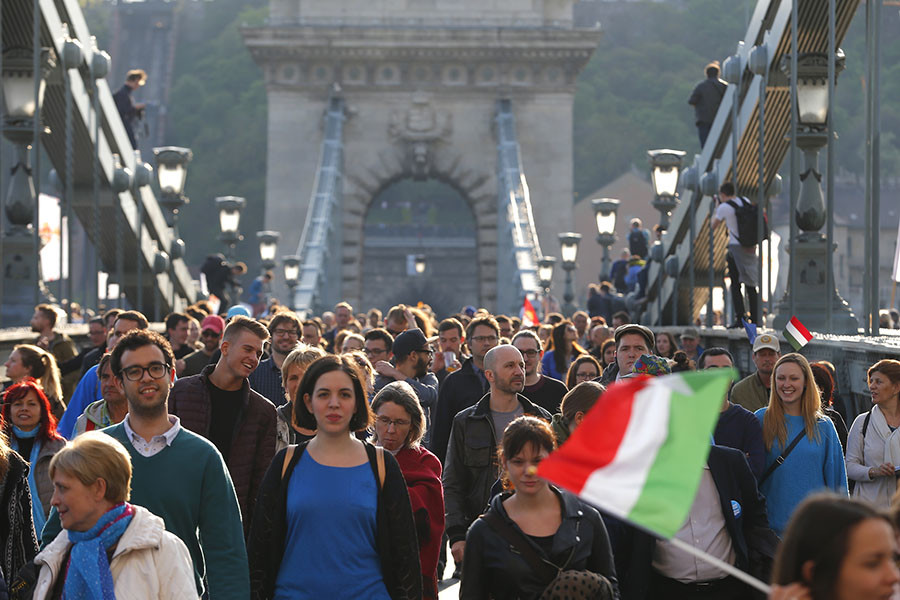 The bill, passed by right-wing Prime Minister Viktor Orban's Fidesz party, imposed new rules under which the CEU must operate, making it impossible to award diplomas because it is formally registered in the United States.
The protesters said they took to the streets of Budapest to convince the Hungarian president to reject the bill before it turns into law, and refer it to a constitutional review.
"What do we want Ader to do? VETO," the crowd chanted. "Let's stop Viktor Orbán", "Free country, free university!" and "We have had enough!"
Szilárd Németh, deputy head of Fidesz, claimed that the rally was organized by "agencies financed by Soros," in retaliation for Fidesz's submission of the bill concerning the transparency of organizations that receive funding from overseas, MTI reported.
According to Németh, those "agencies" want to "undermine Hungary's border protection and force the country to provide free entry to illegal immigrants."
Critics of the bill said it was aimed at restricting the freedom of speech and democratic values in the country.
"The government wants to silence pretty much everyone who doesn't think the same as them, who thinks freely, who can be liberal, can be leftist," protest organizer Kornel Klopfstein, a PhD student at the University of Bielefeld in Germany, told Reuters.
"According to the government one of the centers of these people is at CEU... We should stand up for academic freedom and for CEU.
"The government is always looking for someone to fight with, and Soros seems like a perfect person for this because he funds NGOs in Hungary and he funds CEU as well," Klopfstein added.
CEU Rector Michael Ignatieff said the US State Department will send diplomats to Budapest next week to address the crisis.
For the time being, the school will continue operations as normal, he added.
In his annual state of the nation address in February, Orban said it was high time to take action against increasingly strong activists from international organizations and covert foreign attempts to exert influence.
"Here there are large predators swimming in the water, and this is the transnational empire of George Soros," the outspoken PM said, adding that the influential financier's organizations "are working to bring hundreds of thousands of migrants into Europe."
In 2015, Orban accused Soros of being responsible for the migrant crisis.
READ MORE: George Soros and Viktor Orbán go to war in Budapest
"His name is perhaps the strongest example of those who support anything that weakens nation states, they support everything that changes the traditional European lifestyle," Orban said in an interview on public radio Kossuth, as cited by Bloomberg. "These activists who support immigrants inadvertently become part of this international human-smuggling network."
Soros hit back, saying in a statement that while he tried to "uphold European values," Orban's actions "undermined those values."
In an interview with RT, Hungarian Foreign Minister Peter Szijjarto said that Soros would like "this government to fail, he would like to kind of fire this government because he doesn't like our approach, doesn't like our policies.
"We find it very anti-democratic if someone from abroad would like to influence Hungarian voters on whom to vote for," he asserted.
You can share this story on social media: