Soros-funded NGOs aiming to bring down Hungarian govt – foreign minister to RT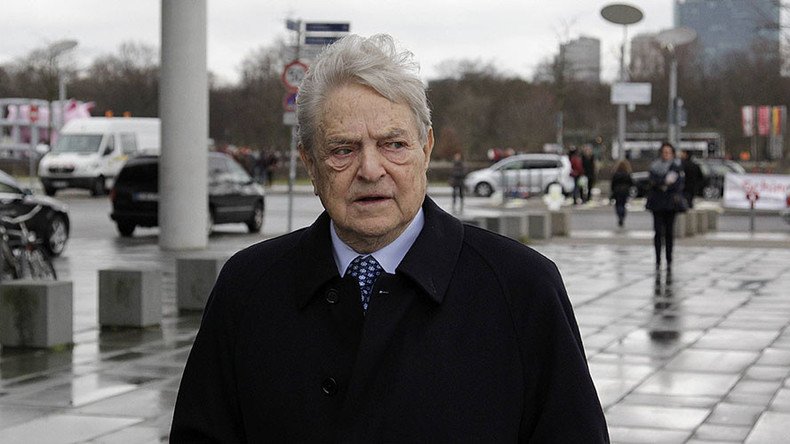 The activities of organizations funded by US billionaire investor George Soros in Hungary are "anti-democratic," as they want to undermine the government in Budapest, the foreign minister of Hungary told RT.
Soros "would like this government to fail, he would like to kind of fire this government because he doesn't like our approach, doesn't like our policies," Foreign Minister Peter Szijjarto told RT's Sophie Shevardnadze.
"We find it very anti-democratic if someone from abroad would like to influence Hungarian voters on whom to vote for," he asserted.
Several days before the interview, the Hungarian parliament began to discuss a bill allowing authorities to audit NGO executives and request detailed reports on their foreign donations.
Earlier in January, chairman of the ruling Fidesz party Szilard Nemeth said that "these organizations must be pushed back with all available tools, and I think they must be swept out, and now I believe the international conditions are right for this with the election of the new president [Donald Trump]."
Last September, Nemeth, who is also the deputy chairman of Hungary's National Security Committee, submitted a list of 22 NGOs "connected to the Soros network for the purpose of having these organizations screened."
Foreign Minister Szijjarto said it is obviously the right of his country to be protected from foreign influence. "This is what we have heard a lot from the US for the last months – that external influence is so dangerous… So, it's a good reason – if this is the American position, it can be our position as well."
Hungary, which lies at the very heart of Europe, last year became a main passageway for hundreds of thousands of migrants and refugees eager to reach northern European countries. The government, led by right-wing President Viktor Orban, responded by erecting fences along Hungary's borders and introducing strict border controls. Budapest has consistently refused EU-backed mandatory resettlement quotas, calling them a blow to member states' sovereignty.
Szijjarto cited intelligence reports alleging that "there were organizations which helped illegal migrants find ways to Hungary, to find where they could violate our border, to find out how to apply for asylum status, and these reports have said that George Soros was in the background of these organizations."
Countries to Hungary's east and south are concerned about Soros' operations, too. In Macedonia, an organization called Stop Operation Soros (SOS) has been launched. Its founder, Nikola Srbov, accused Soros of hijacking civil society, calling upon followers to "fight against one-mindedness in the civil sector, which is devised and led by Soros," according to Vecer newspaper.
Russian prosecutors branded the Open Society Foundation (OSF), a major Soros asset, and Open Society Institute's Assistance Foundation threats to the country's constitutional order and national security in 2015, and banned them from providing grants to Russian partners.
Groups run by Soros have also been accused of meddling in Ukrainian affairs and supporting the 2013 Euromaidan protests that led to the ouster of democratically-elected President Viktor Yanukovich.
You can share this story on social media: