Kiev Metro slams local broadcaster for fake bombs stunt
Published time: 5 Apr, 2017 16:01
Edited time: 6 Apr, 2017 11:21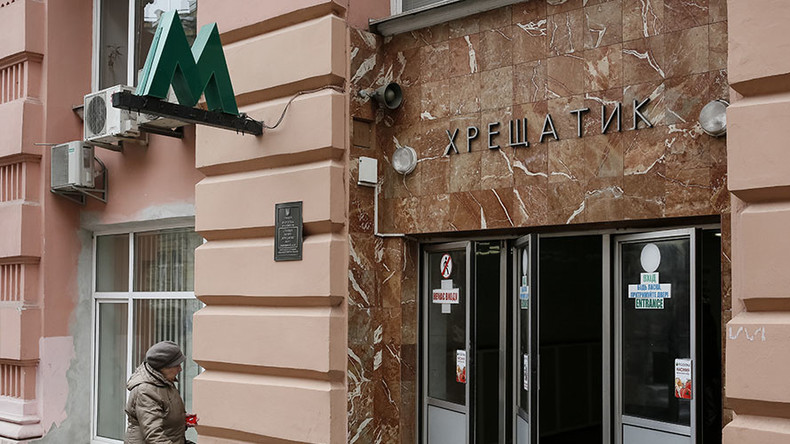 The Kiev metro says it's going to the police after Ukraine's 1+1 channel placed fake bombs on the Kiev subway to see how Ukrainian security forces would react. The stunt came just days after an explosion killed 14 people in Russia's St. Petersburg Metro.
"Apparently, they think it's funny to do it while people who were killed in a terror attack on the subway in St. Petersburg are being put to the ground. We're going to inform the relevant law enforcement agencies" on the incident, the Kiev Metro said in statement on Facebook.
According to metro officials, the journalists from local 1+1 channel left unattended boxes at the Khreschyatik, Vokzalnaya, and Lesnaya stations.
The subway staff called the police after discovering them, but the officers were stopped by the journalists, who explained that it was an experiment.
The broadcaster explained that that the stunt was aimed at testing how ready Ukrainian security forces were for possible terror attacks on the metro.
The subway administration wasn't informed about the planned "experiment," Kiev subway spokeswoman Natalya Makogon told Online.ua.
She said suspicious boxes are never left lying around the subway, as there are special employees and police on the lookout.
Kiev police spokeswoman Olesya Blischik said the broadcaster may face prosecution for trying the stunt.

"If in the current condition of terrorist threat and heighten security measures somebody still wants to 'make jokes,' they should remember what kind of consequences it may have. Stop scaring people and provoking the police. We have the SBU antiterrorism center to carry out such drills," Blischik wrote on her personal Facebook page.
READ MORE: 'My call could've saved her': Heart-broken husband on wife's tragic death in St. Petersburg blast
Fourteen people were killed and dozens injured in a suicide bombing in the St. Petersburg Metro on Monday.
Investigators have identified 22-year-old Akbarzhon Dzhalilov, a Kyrgyz-born Russian citizen, as the suicide bomber who blew himself up on a train traveling between Tekhnologichesky Institut and Sennaya Ploshchad stations.
READ MORE: St. Petersburg Metro bomber, identified as 22yo Dzhalilov, planted another bomb
The suspect had planted another bomb at Ploshchad Vosstaniya station, but it did not go off and was defused.