Light of hope: Global landmarks commemorate St. Petersburg blast victims (PHOTOS, VIDEO)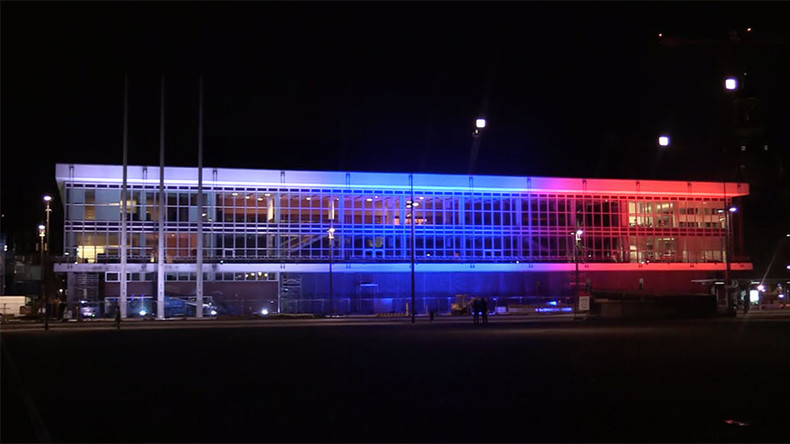 Several cities around the world have memorialized the victims of the St. Petersburg Metro explosion, which killed 14 and injured dozens, but some landmarks that usually show solidarity after similar attacks in other countries have chosen not to for Russia.
Paris
The Eiffel Tower turned off its lights in tribute to the victims of the St. Petersburg Metro blast, apparently after the city's authorities came under massive public pressure on social networks.
"Tonight, at midnight, Paris dims the lights of the Eiffel Tower in tribute to the victims of the attack in Saint Petersburg," Paris Mayor Anne Hidalgo wrote on Twitter.
Dresden
The German city of Dresden lit up its iconic Palace of Culture with the colors of the Russian flag on Tuesday evening as a symbol of mourning and solidarity.
Dirk Hilbert, Dresden's mayor, sent a letter to St. Petersburg Governor Sergey Poltavchenko, in which he "strictly condemned" the terror attack and "extended sincere condolences on behalf of all Dresden residents" to the victims and their loved ones.
"I am here at the Palace of Culture only for this event, because I believe it is very important that we show this as a sign of solidarity here in Germany," Ulf Rothe, a local resident, told Ruptly.
Belgrade
Palace Albanija, a high-rise building in Belgrade, Serbia was also illuminated in Russia's national colors on Tuesday.
Serbian PM Aleksandar Vucic sent a telegram of condolence to Russian President Vladimir Putin.
"We are deeply shaken by the news of the horrific explosion at a metro station in St. Petersburg, which is obviously a senseless act of terrorism," Vucic said.
Tel Aviv
It was midday in Europe and early morning in the US when the blast in St. Petersburg occurred, so public outcry followed when, on Monday, Tel Aviv was the only city that showed solidarity.
Israeli city projected the Russian flag onto its City Hall.
"In solidarity with our friends in Saint Petersburg, TelAviv city hall is lit tonight in the colors of the Russian flag," Tel Aviv Mayor Ron Huldai wrote on Twitter.
'Shame!' Social media points to double standards concerning St. Petersburg attack
People on social media have been pointing out that, after the Paris and Brussels attacks, the world's major cities immediately used their landmarks to display grief and show solidarity. However, that didn't happen after the metro blast in St. Petersburg.
Some have begun note how victims of terrorism are treated differently, depending on the country in which the attack takes place.
The majority of the anger was directed towards Germany's Brandenburg Gate, which showed solidarity after similar attacks in Paris, Brussels, London, Orlando, Istanbul, Nice and Jerusalem.
Klaus Lederer, Berlin's culture commissioner, took to Facebook to say that "the Russian flag [colors] should have also been actually projected on the Brandenburg Gate."
Some people criticized Facebook for not creating a filter with Russian colors, but the social media giant did activate safety checks in the wake of the blast.
Social media users were asking if the London Eye, which is also usually lit up in similar cases, would be illuminated in the colors of the Russian flag.