'Threat to planes & ships': Japan fumes as North Korea test-launches another ballistic missile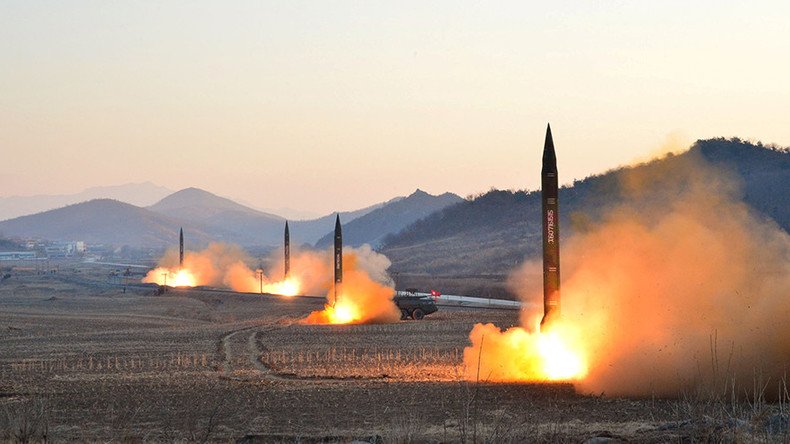 North Korea has reportedly test-fired a middle-range ballistic missile into the Sea of Japan, drawing strong condemnation from its neighbors, Japan and South Korea. The launch comes as the US-China summit is about to kick off in Florida.
The South Korean military defined the type of missile as a "KN-15 medium-range ballistic missile" or Pukguksong-2, the South Korea's Joint Chiefs of Staff (JSC) said in a statement to Yonhap. The launch was performed at about 6.42 am local time from the area near the North Korean seaside town of Sinpo in the South Hamgyong Province, it said. The missile covered the distance of about 60 km within nine minutes of its flight before it landed into the Sea of Japan, without incurring any damage and short of reaching Japan's exclusive economic zone.
It is too early to say if the launch was a success or a failure, the military said.
The launch was also confirmed by the US Pacific Command, with spokesman Cmdr. Dave Benham saying in the aftermath of the firing that it is "fully committed" to cooperate with Japan and South Korea "to maintain security."
Denouncing the launch as "a brute challenge to a number of decisions by the UN Security Council on the nuclear and missile provocations of North Korea," the country's Foreign Ministry spokesman, Cho June-hyuck, noted that such blatant actions engender international peace and security.
Meanwhile, Japanese Prime Minister Shinzo Abe has called the yet another missile test by North Korea "serious provocative actions in terms of security," that run contrary to the international law, in particular, UN Security Council resolutions imposing sanctions on North Korea.
Japan has been in close contact with Washington and Seoul and "undertaking measures to protect the life and property of the citizens of the country in any possible situation," Abe said, denouncing the test as "totally unacceptable," as cited by the Kyodo news agency.
Japan's Chief Cabinet Secretary Yoshihide Suga has announced that Japan "filed a grave protest against North Korea and strongly denounced the test-firing," stressing that his country "won't tolerate repeated provocative actions by North Korea", he said, as cited by The Times of Japan.
READ MORE: Pyongyang declares 'rebirth of rocket industry' after new engine test
While the missile did not bring any damage to Japanese aircrafts or vessels in the area, Suga called its "extremely problematic in terms of safety of planes and ships," as cited by RIA Novosti.
The launch comes ahead of the much anticipated meeting between US President Donald Trump and his Chinese counterpart, Xi Jinping, at which he is expected to raise the issue of North Korea and urge China to take a tougher stance on its nuclear and missile program. However, Trump said on Monday that in case the efforts to persuade China to exert influence on North Korea prove to be futile, the US is going "to solve" North Korea alone without elaborating further.
Commenting on the launch, US Secretary of State Rex Tillerson acknowledged the mere fact that the test had been carried out, refraining from further comment.
"North Korea launched yet another intermediate range ballistic missile. The United States has spoken enough about North Korea. We have no further comment," Tillerson said in a statement.
In response to Trump's comments and the ongoing joint South Korea and US drills which it sees as preparation for an invasion, North Korea has threatened to retaliate. On Monday, it warned that "the world will soon witness what eventful steps the DPRK will take to frustrate the hideous and reckless sanctions racket" on Monday.
The newest launch comes just two weeks after a failed attempt by North Korea to fire a missile from its east coast near Kalma Peninsula.
Early in March, North Korea successfully fired four ballistic missiles into the Sea of Japan, three of which reached Japan's territorial waters.
You can share this story on social media: