Pyongyang declares 'rebirth of rocket industry' after new engine test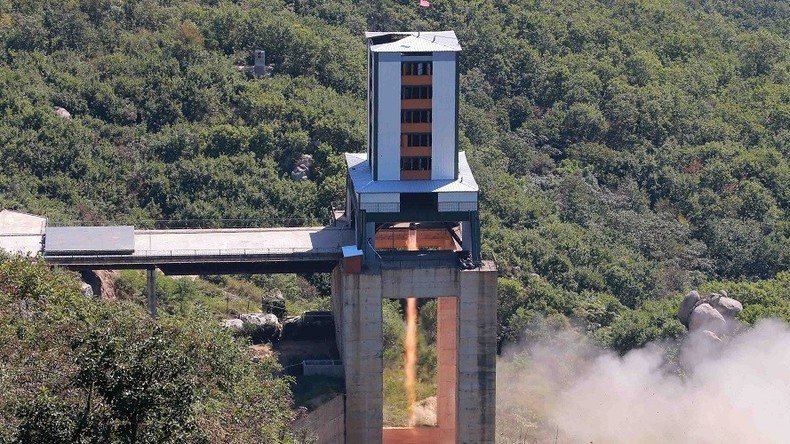 North Korea has performed a ground test of a "new-type" engine, designed to boost country's "capability in the field of outer space." However, in contrast to the usual saber-rattling, Pyongyang did not use the opportunity to tout the potential military use of the tech.
Kim Jong-un attended the test of the "new-type high-thrust engine" at the Sohae satellite-launching site early on Sunday, state KCNA news agency reported. The engine would give the country an opportunity to "consolidate the scientific and technological foundation to match the world-level satellite delivery capability in the field of outer space development," KCNA said, citing country's leader.
The specifications and type of the engine remain a mystery, but the supreme leader was so satisfied with the test that he gave lead developers and scientists a hug and a photo session, and emphasized that the "world will soon witness what eventful significance the great victory won today carries."
Pyongyang claimed that the engine was created solely for space exploration and satellite launches and did not mention any of the usual militaristic rhetoric, which usually accompanies such tests.
The new tests comes amid heightened tensions in the Korean Peninsula. Denouncing annual US-led drills with Seoul last week, North Korea launched four missiles in a simulated attack on US facilities in the region, and vowed "merciless ultra-precision strikes from ground, air, sea and underwater" if the allies violate its "sovereignty and dignity even a bit."
US President Donald Trump criticized N. Korea for "behaving very badly," while Secretary of State Rex Tillerson said the US "did not rule out" nuclearizing Japan and South Korea amidst the growing threat.
Last week, the US military also began the deployment of its THAAD anti-missile system in S. Korea, despite Russia and China objecting to the move as being "counter-productive."
Beijing said THAAD's deployment was harming the "regional strategic balance," since it might damage China's nuclear deterrent capabilities and potentially fuel US first-strike ideas. Moscow said Washington was "instigating an arms race in the subregion."
"We do not oppose South Korean taking necessary measures to protect its security, but these measures cannot be based upon harming the security interests of South Korea's friendly neighbor, China," Chinese Foreign Ministry spokeswoman Hua Chunying said on Friday, as quoted by Reuters.
Washington and Seoul however continue to maintain that the deployment of THAAD is a "defensive" measure against Pyongyang, and countries "other than North Korea" have nothing to worry about, according to US Defense Secretary James Mattis.
You can share this story on social media: