N. Korea tests new ICBM engine, boasts of capability to destroy Washington DC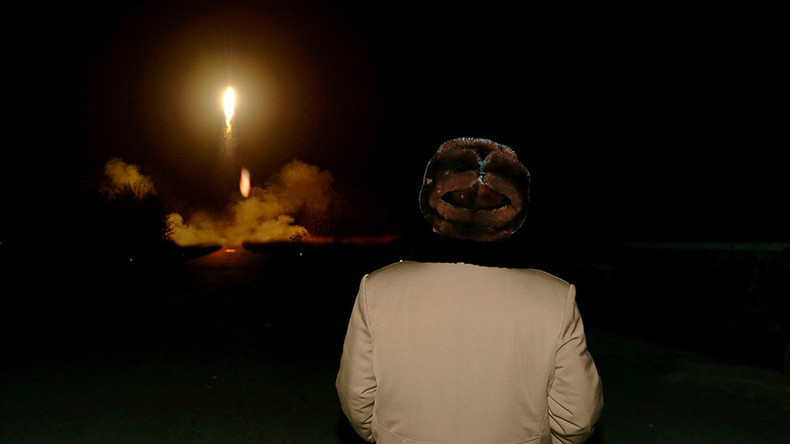 In keeping with its earlier promises of ramped-up testing of its ICBM and nuclear capabilities, North Korea has announced the ground test of a new missile engine, according to state-run KCNA. Leader Kim Jong-un says Pyongyang can now strike Washington DC.
The test of the intercontinental ballistic missile engine "satisfied all scientific and technological indexes," KCNA reported.
And Kim Jong-un's dream of having the ability to strike enemies far away could also be a reality, if confirmed. According to a statement by the leader, the test "provided a firm guarantee for mounting another form of nuclear attack upon the US imperialists and other hostile forces.
"Now the DPRK can tip new type inter-continental ballistic rockets with more powerful nuclear warheads and keep any cesspool of evils in the Earth including the US mainland within our striking range and reduce them to ashes," Kim reportedly announced, adding that there was a "need to diversify nuclear attack means at a higher level to cope with the ever-more increasing nuclear threats and arbitrariness of the imperialists and thus decisively counter nukes in kind."
On Wednesday Kim announced Pyongyang's newly developed ability to mount a miniature nuclear warhead on a mid-range missile.
The North Korean nuclear deterrent has led to Washington and its Southeast Asia allies to stage drills in the region to defy Kim's threats. But this appears to only aggravate the situation, resulting in a ramp-up up of weapons research.
While Kim was present at the trial run for the new engine, there was no word as to exactly what model was in question. There was also no word on whether it's a solid or liquid fuel engine design. Liquid is cheaper, but solid is more silent and can be launched with less advance warning.
Pyongyang has been publicizing its tests with increasing glee since January 6, the date of its fourth nuclear test.
You can share this story on social media: