Trump vows to 'solve North Korea' with or without China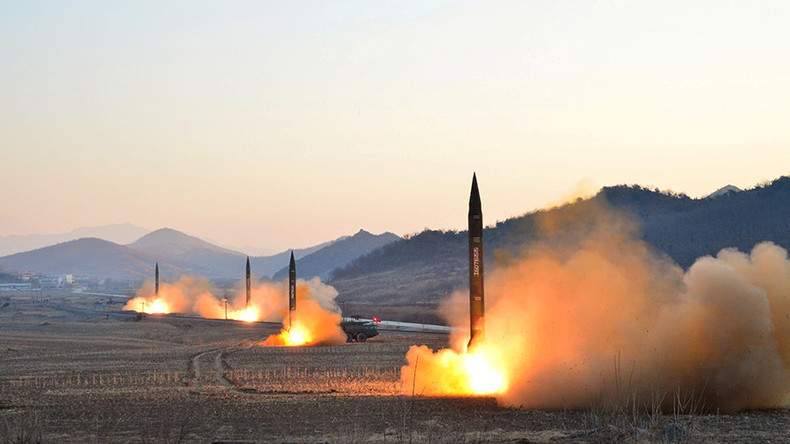 The US is ready and "totally" able to tackle the North Korean threat with or without the help of China, the US President told the Financial Times, indicating that Washington will use the "trade" lever to push Beijing into exerting greater pressure on Pyongyang.
Ahead of the US-China summit in Florida next week, where the US President is scheduled to discuss a number of issues with the Chinese leader Xi Jinping, Donald Trump revealed that unless Beijing influences the North Koreans to curb their nuclear research Washington will do it alone.
"China has great influence over North Korea. And China will either decide to help us with North Korea, or they won't. And if they do that will be very good for China, and if they don't it won't be good for anyone," Trump told the Financial Times.
Beijing has long been frustrated by Washington's suggestions that China is the one country that must do more to tackle the issue of North Korea's nuclear and missile programs. Beijing has also been irritated over the US decision to use the issue as a pretext for assembling the advanced THAAD missile defense system in South Korea.
China has repeatedly warned the US not to exacerbate tensions on its borders by beefing up its military capabilities in the vicinity of the South and East China Seas. At the same time, Beijing continues to be suspicious of Washington's policy toward Taiwan, which China considers an inherent part of the mainland.
When asked by the Financial Times if he will consider offering Beijing a "grand bargain" like withdrawing some of US forces from the region in exchange for pacifying Pyongyang, Trump dodged the question, saying instead, "Well if China is not going to solve North Korea, we will. That is all I am telling you."
Trump stated that even acting unilaterally, the US will "totally" succeed against the North, without elaborating further.
Trump's national security aides have already compiled a list of options, both economic and military, that Trump will have at his disposal against North Korea. However, according to an unnamed official who spoke with Reuters on Sunday, the recommendations currently lean more toward new sanctions and increased pressure on Beijing to influence its neighbor's behavior.
READ MORE: N. Korea threatens 'strike without warning' against S. Korea & US troops conducting joint drill
Kim Jong-un is actively pursuing the development of sophisticated weapons to match the power of the US and its allies in the region. Three nuclear tests were completed under his almost five-year reign, along with the development of improved longer-range ballistic missiles.
READ MORE: N. Korea may have doubled uranium enrichment – UN nuclear watchdog
On March 22nd, North Korea, unsuccessfully attempted to launch its third rocket since Trump's inauguration in January. While the missile exploded seconds after launch, the latest attempt, as always, prompted a strong reaction from Washington. Defense Secretary James Mattis, on Friday, who said North Korea was acting "in a very reckless manner."
"Right now, [North Korea] appears to be going in a very reckless manner… and that has got to be stopped," Mattis said at a news conference in London.
Last month while on a trip to Asia, Secretary of State Rex Tillerson announced that the White House "policy of strategic patience" was over.
"We are exploring a new range of diplomatic, security, economic measures," Tillerson said. "All options are on the table."
In order to get Beijing to cooperate on North Korea, Trump hinted at using trade terms with China as potential lever: "Trade is the incentive. It is all about trade."
On Friday Trump signed two executive orders targeting the US trade deficit. Commerce Secretary Wilbur Ross will now lead a comprehensive review into the causes of $502 billion trade deficit, including China's $300 billion contribution. He is expected to report on the conclusion of the investigation in 90 days. Both orders seek to stop import duty evasion.
China, in turn, emphasized said that any US trade-related endeavors must comply with international trade rules.
"China is willing to cooperate with the United States on a basis of equality and mutual benefit," China's Ministry of Commerce said on Saturday.
You can share this story on social media: