N. Korea may have doubled uranium enrichment – UN nuclear watchdog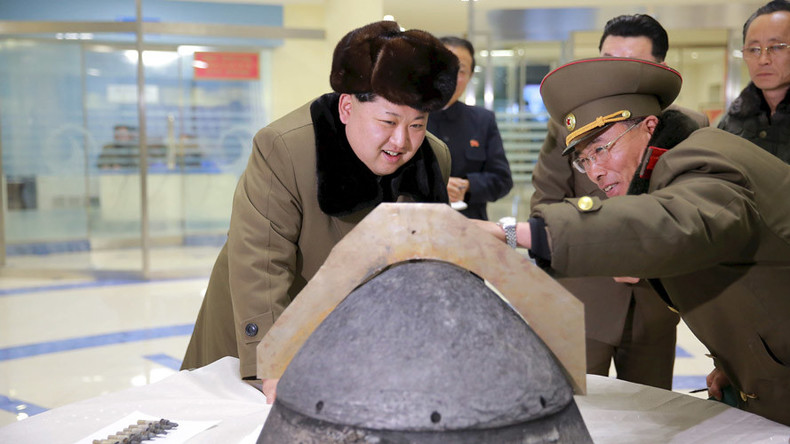 North Korea may now be a step closer to developing a nuclear weapon as its facilities are extensively producing plutonium and enriching twice as much uranium as several years ago, according to the head of the UN-run nuclear energy agency.
Pyongyang's nuclear capabilities might overwhelm all previous predictions, Yukiya Amano, director general of the Vienna-based International Atomic Energy Agency (IAEA), told the Wall Street Journal. The reclusive country, he said, is accelerating the production of plutonium and the enrichment of uranium.
"This is a highly political issue. A political agreement is essential," Amano said. "We can't be optimistic. The situation is very bad. We don't have the reason to be optimistic."
Amano, who played a leading role in brokering the landmark nuclear pact reached between six world powers and Iran in 2015 to downsize Tehran's nuclear potential, cast doubt on chances of engineering a similar deal with North Korea.
"The situation is very different. Easy comparisons should be avoided," he said. The IAEA chief added that the agency's satellite imagery indicates that Pyongyang has doubled the size of the facility at Yongbyon nuclear research center, where the enrichment is believed to take place.
He also voiced skepticism that a diplomatic agreement could be negotiated with Pyongyang in the near future, saying, "It is very difficult to foresee the future outcome."
"It has gone into a new phase," Amano said of North Korea's overall nuclear program. "All of the indications point to the fact that North Korea is making progress, as they declared."
He refused to elaborate on his agency's assessment of how many warheads may be in North Korean arsenals. In January, Washington-based Arms Control Association cited State Department figures suggesting that Pyongyang may possess enough plutonium for approximately 10 plutonium-based warheads.
Amano's interview comes amid heightened tensions in the Korean Peninsula. In March, the US military began assembling a THAAD missile defense system in South Korea to repel possible rocket attacks coming from the North. The controversial deployment has already been condemned by both Russia and China.
Russian Foreign Minister Sergey Lavrov described the THAAD deployment as posing serious security challenges to the Asia-Pacific.
"We have voiced our assessments, according to which, if one wants to deal with threats posed by DPRK, the creation of such ABM system as well as pumping weapons into the region are far from a proportionate response," Lavrov noted.
READ MORE: N. Korea aims to produce ICBM with nuke warhead by end of 2017, defector claims
Earlier, Pentagon spokesman Captain Jeff Davis said the THAAD deployment has already been agreed upon by both nations, maintaining that the system will come online at any rate.
"Leaders change over time, that's not new," Davis was cited by Reuters, referring to the ongoing political crisis in Seoul triggered by the impeachment of president Park Geun-hye.
In turn, North Korea has significantly strengthened its missile capabilities, test-firing four intermediate-range missiles into the Sea of Japan. The tests were seen by the North's neighbors as a message saying the US regional allies are now within reach of Pyongyang's missile systems.
In September last year, North Korea carried out its latest nuclear test, announcing that it was capable of mounting nuclear warheads on ballistic missiles. The move was condemned in strongest terms not only by the US and Western nations, but also China, Pyongyang's major trading partner and a sole ally.