Acting Serbian PM Vucic wins presidential election – preliminary results
Published time: 2 Apr, 2017 22:18
Edited time: 3 Apr, 2017 07:57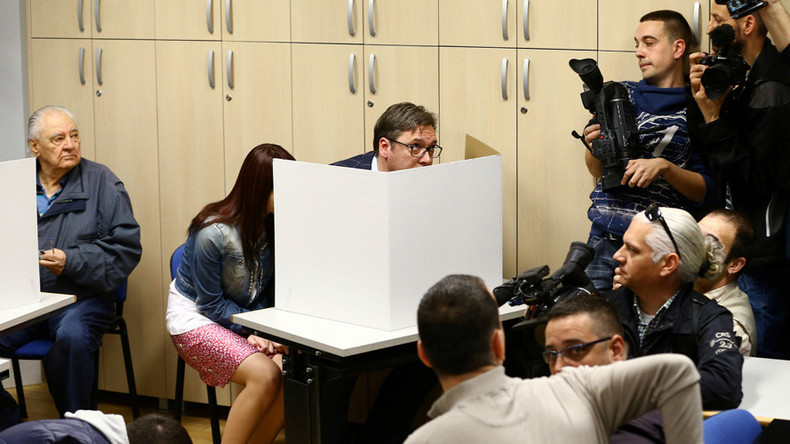 The current head of the government in Serbia and leader of the ruling conservative Serbian Progressive Party, Aleksandar Vucic, has been elected as the Balkan country's president, early Central Election Commission results show.
Having processed 56.5 percent of the ballots, the Central Election Commission announced that the Serbian Prime Minister is leading the presidential election with 57.03 percent of the vote, according to Sputnik.
Vucic declared himself the winner before the official announcement of the election results.
"The important thing was that the victory was clean as a whistle... I got 12 percent more votes than all the other candidates put together," Vucic said.
Vucic's nearest rival, opposition candidate and former ombudsman, Sasa Jankovic, took some 14.9 percent of the vote.
Eleven candidates were registered by Serbia's election committee to run for the presidency. Among the other candidates were comedian and political activist Luka Maksimovic (who received nine percent of the vote, according to the Ipsos poll, as reported by TASS), Serbia's former minister of foreign affairs Vuk Jeremic (five percent) and leader of the far-right Serbian Radical Party Vojislav Seselj (four percent).
The election turnout stands at 55.5 percent, TASS reported citing Vucic's campaign office. Some 6.7 million people were eligible to vote in Serbia, RIA reported, adding that those voters include people living abroad and in Kosovo and Metohija, with OSCE (Organization for Security and Cooperation in Europe) representatives having monitored the election process in the region.
READ MORE: NATO, US concerned over Kosovo plan to create regular army
In total, almost 2,000 local and over 120 international observers monitored the elections, with the head of the Russian delegation having told TASS that no violations had been registered and the voting was "calm."
The president of Serbia is elected for a five-year term and one person can only serve two terms. The Presidential role is largely ceremonial, with the Serbian president having such formal powers as representing the country in the international arena, offering parliament a candidate to head the government, having the right to sign and veto laws, as well as to appoint ambassadors and giving awards. The president is also the commander-in-chief.
Vucic was named as the front-runner before the voting. Various polls suggested he would win the vote, only having argued whether or not he would receive more than half of the votes, avoiding the run-off.
With the conservative ruling party leader being widely expected to appoint a loyal ally as new prime minister, Vucic's opponents claim he's adopted an authoritarian streak since his party rose to power in 2012, Reuters reported. Vucic denies such a charge.
Vucic's supporters however say they "voted for stability," according to Reuters. Vucic himself said that Serbs had voted for a continuation of Serbia's path into the EU, while at the same time maintaining strong ties with Russia and China.