NATO, US concerned over Kosovo plan to create regular army
Published time: 8 Mar, 2017 21:40
Edited time: 9 Mar, 2017 16:56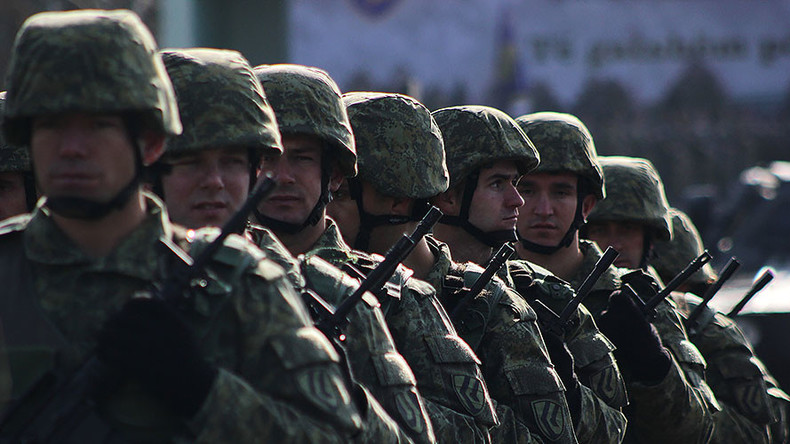 NATO and the US have warned Kosovo against its plans to transform its security force into a regular army. The alliance and Washington have promised to thwart cooperation with Kosovo if it sets up the army without a constitutional change.
NATO's chief, Jen Stoltenberg, said on Wednesday that he spoke to Kosovo leaders "to convey the serious concerns of NATO Allies about recent proposals by the Kosovo authorities to transform the Kosovo Security Force (KSF) into an armed force, without a constitutional change.
He warned that in case Kosovo goes ahead with the transformation, "NATO will have to review its level of commitment, particularly in terms of capacity-building."
The US embassy in Kosovo, issued a similar statement, saying that "adoption of the current proposed law would force us to re-evaluate our bilateral cooperation with and longstanding assistance to Kosovo's security forces."
"We support the gradual, transparent transformation of the Kosovo Security Force into a multiethnic force in line with NATO standards. However, this transformation should be done in accordance with the Kosovo Constitution and through an inclusive and representative political process that reflects Kosovo's multiethnic democracy," the US embassy added.
NATO attacked the Federal Republic of Yugoslavia (Serbia and Montenegro) in 1999 to aid the ethnic Albanian insurgency in Kosovo. The breakaway province unilaterally declared independence in 2008, with the backing of the US and other Western powers.
Kosovo President Hashim Thaci, who led the 1999 insurgency, said he was determined to go on with the army creation plan, adding there is "no turning back."
READ MORE: Albania's diaspora plans to seize Serbian mission in US or Europe – Serbia's foreign minister
"The KSF will be transformed into a Kosovo army," Thaci told US government-funded Radio Free Europe. "Western Balkans is endangered from the Russian military bases in Serbia, from Russia's MIG jets in Serbia and from the Russian military exercises in Serbia.''
Serbian Prime Minister Aleksandar Vucic has thanked NATO for its stance on the matter in a phone conversation with Stoltenberg, Radio-Television of Serbia (RTS) reported. Vucic added that he expected help and support from the EU, the US and Russia over Kosovo's move, which would violate the breakaway province's UN-written constitution and UNSC resolution 1244.
READ MORE: Serbia to get 6 Russian MiG-29 fighter jets 'soon' – Defense Ministry
Any constitutional amendment can only be made in Kosovo if ethnic minorities in its parliament vote in its favor. Thaci believes that ethnic Serbs will never vote for establishing an army.
Kosovo's lightly armed security force, formed in 2009, has now around 4,000 regular and 2,500 reserve forces, trained and supervised by NATO. KSF possesses no heavy weapons, like tanks or heavy artillery.
Thaci's plan implies increasing regular forces up to 5,000 and reservists to 3,000. There are no plans for departure of some 4,500 NATO-led international troops, part of a mission deployed in Kosovo since 1999.