'If Serbs are killed, we'll send troops in,' says Serbian president after Kosovo-bound train blocked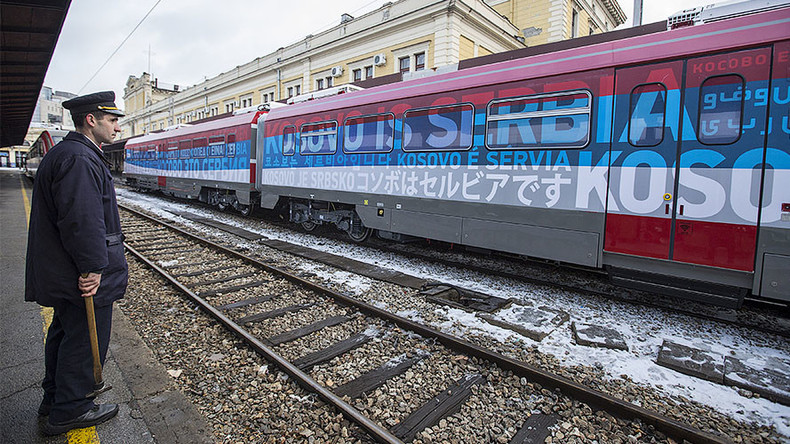 Serbia and Kosovo were brought to "the brink of conflict," according to the Serbian president, after a Kosovo-bound train bearing the popular catchphrase 'Kosovo is Serbia' was prevented from crossing the border by Albanians, who deemed it an affront.
The train bound for Mitrovica was the first direct link in 18 years between the Serbian capital, Belgrade, and the city in northern Kosovo with a sizable Serb population since the province declared independence from Serbia in 2008. Serbia and Russia, among others, do not recognize Kosovo's claim, however 110 UN member states do.
The train, adorned with the common Serbian patriotic catchphrase 'Kosovo is Serbia' and painted in Serbian national colors, had stopped just short of entering Kosovo after local ethnic Albanians sent the ROSU – their special police – to prevent the train's entry and forcing Serbian President Tomislav Nikolic to call it back, narrowly averting an international incident.
"The appearance of ROSU was a sign the Albanians wanted war," the Serbian leader was quoted by RTS as saying, as he spoke to journalists following a national security meeting. Nikolic added that such moves by the breakaway government are "twitches of the outgoing US administration."
The government in Kosovo said it saw the inscription on the train as a provocative act and a message of occupation, while the Serbian side insisted that it merely denotes a celebration of Serbia's cultural heritage, which stretches back hundreds of years.
However, tensions rose during the incident, prompting Nikolic to put things bluntly – that the two had briefly been on the precipice of war, and that the Serbian move to call back its train was quite measured, but will not be next time if Albanians threaten Serbian lives.
Kosovo Prime Minister Isa Mustafa said earlier that he had contacted the US and EU to voice his concerns. Meanwhile, Edita Tahiri, the Kosovo government minister responsible for dialogue with Serbia, complained to Kosovo's Western partners of the "illegal Serbian train," alleging, according to local media, that "Serbia has a dangerous plan that should concern us all."
Nikolic and senior Serbian officials condemned these moves. The Serbian president said he will be expecting a clear response from Brussels on whether it is true Mustafa had consulted the EU and had US support before illegally stopping the train.
"We do not care for war, but will not hesitate to send in the armed forces if need be, to protect Serbs from potential slaughter… We do not want a conflict, but there are situations when one can't cave in… We shall henceforth behave in accordance with Serbian Law, which is clear. We have a duty to defend every inch of the territory and every citizen. We all agree on this, and no one should test us," the Serbian leader said.
"We acted well yesterday, and there is no cause for Albanian jubilation here. Each new attempt will end badly – let them think about that… them and their sponsors," Nikolic added, apparently referring to the US and the EU.
The conflict has roots going back hundreds of years, but most recently in 1991, during the bloody breakup of Yugoslavia, which started a chain reaction, leading to the war of 1998-99, and eventually, to Kosovo unilaterally declaring independence in 2008, backed by the US and the EU.
The Republic of Kosovo is split into seven administrative divisions and 38 municipalities, following the Brussels Agreement of 2013, which sought to form new municipalities with Serb majority populations. The Albanian-controlled government sits in Pristina, with the Serbian minority occupying Mitrovica and its municipalities.
Russia-allied Serbia continues to see the terms offered it in Brussels as unfair – a result of the same policies that led to the breakup of Yugoslavia.
The near-volatile situation with the train comes on the heels of another incident, in which French Police seized former Kosovo Prime Minister Ramush Haradinaj on an old Serbian international warrant. He was later released, thanks to a French court, despite Serbian allegations of Haradinaj's war crimes during his KLA years.
You can share this story on social media: