Kurdish voters stabbed outside Turkish consulate in Brussels – reports (VIDEO)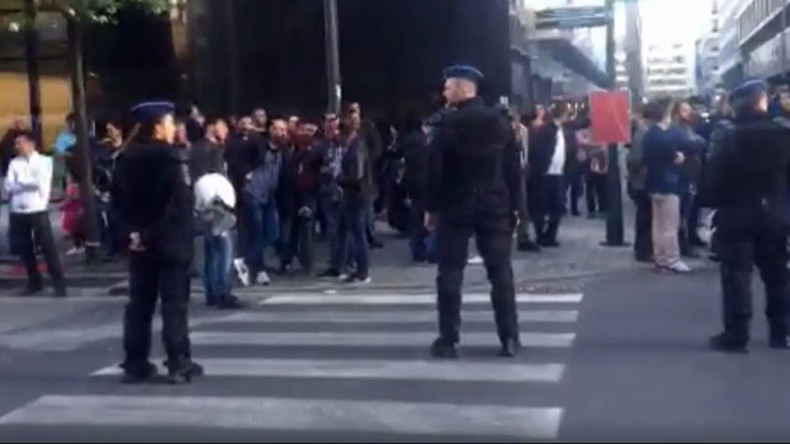 Protests have erupted after Turkish government supporters allegedly attacked and injured three Kurds going to vote in Turkey's constitutional referendum at its consulate in Brussels, local media report.
Three Kurds were attacked by knife-wielding supporters of the Turkish ruling Justice and Development Party (AKP), Kurdish ANF news agency reports.
According to Le Soir.be, there was a brawl at 4pm local time between opponents and supporters of Turkish President Recep Tayyip Erdogan.
The three Kurds – a man named Mahmut Yaşar, a woman named Sultan Uğraş and an unnamed victim – all received stab wounds, ANF news says. Uğraş, who was reportedly stabbed in the neck, is believed to be in critical condition. Police have not yet released any updates on her condition.
"We had to intervene because there were incidents, there were wounded and they were taken to be treated, and an investigation is underway," said police spokeswoman Ilse Van de Keere, as quoted by the Express.
Kurdish protesters have gathered outside the consulate building after the reported stabbing. As of 8pm, a hundred or so protesters were still outside the building.
Riot police are now at the scene, but the protest, so far, seems to be peaceful. A water cannon has also been deployed to the site.
After the incident, the alleged attackers reportedly made their way inside the Turkish consulate.
Belgian Prime Minister Charles Michel has denounced the attack on Kurdish voters.
"The government applies absolutely zero tolerance for the excesses surrounding the Turkish referendum," he wrote on Twitter. "I strongly condemn the violence front of the embassy."
De regering hanteert absolute nultolerantie voor ontsporingen rond het Turkse referendum. Ik veroordeel de rellen aan #ambassade in Brussel

— Charles Michel (@CharlesMichel) March 30, 2017
#Begov prône la tolérance zéro pour les débordements en lien avec le référendum turc. Je condamne fermement les violences devant l'ambassade

— Charles Michel (@CharlesMichel) March 30, 2017
Erdogan, along with his ruling AKP party, is currently campaigning for a 'yes' vote in Turkey's April referendum which would give the office of the president the power to issue decrees, declare emergency rule, appoint ministers and state officials, and dissolve parliament. Erdogan is relying heavily on support from the 5.5 million Turkish citizens living abroad to help him win the plebiscite.
Critics of the move, including the Kurdish community, say the success of the referendum would abolish the country's system of checks and balances. Earlier in March, a massive rally of around 30,000 Kurds took place in the German city of Frankfurt. Some of the protesters held banners saying, "No" to the referendum, as well as flags of the banned Kurdistan Workers Party (PKK), also outlawed in Turkey, and images of its leader, Abdullah Ocalan. The PKK is engaged in a conflict with the Turkish government in the country's southeast, and has been described by Erdogan as a terrorist organization.
You can share this story on social media: