Erdogan: Turkey may hold Brexit-style referendum on EU accession bid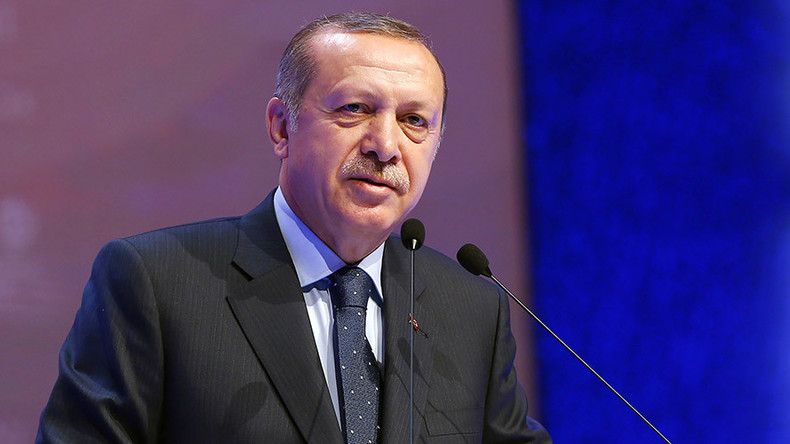 Turkish President Recep Tayyip Erdogan has announced plans to hold a "Brexit-like" referendum on whether Ankara should carry on with a process to join the European Union, amid strained relations with its western partners.
READ MORE: 'Red line must not be crossed': Germany's top judge on Ankara Nazi taunts
A new vote on the EU accession bid might be organized in Turkey after the April 16 constitutional referendum, which could give Erdogan new powers, the Turkish president announced Saturday.
Speaking at a Turkish-British forum in Turkey, Erdogan said Ankara might review its ties with the bloc, just as the UK did.

"You [Britain] have made a decision with Brexit... We have a referendum on April 16. After this, we may hold a Brexit-like referendum on the [EU] negotiations. No matter what our nation decides, we will obey it," Erdogan said, as quoted by Turkish Anadolu news agency.

He also harshly criticized a rally in Switzerland on Saturday where hundreds of pro-Kurdish supporters gathered in front of the Swiss parliament, carrying anti-Erdogan banners. The Turkish president warned that Europe's "bad manners" were testing his patience.
"It must be known that there is a limit to [Turkey's] patience with the attitude that European countries show us," Erdogan said.
Erdogan's comments came a day after he vowed to review his country's political and administrative ties with the bloc, including a deal to curb illegal migration, as reported by Reuters.
READ MORE: You call me dictator, I will keep up Nazi taunts – Erdogan
Erdogan has also previously hinted Ankara may reevaluate its relations with the EU if a constitutional referendum granting him additional powers passes on April 16. He said he would have more leverage when negotiating with Brussels on Turkey's accession to the EU, warning that "it will be a different Turkey" then.
Turkey's bid to join the EU has been stalled for decades, but the ongoing migrant crisis in Europe saw the 28-country bloc strike a deal with Ankara that included promises of visa-free travel for Turkish citizens and the acceleration of Turkey's EU bid. However, while Turkey insisted it has been keeping its side of the deal, stemming the refugee flow from Syria, it pointed out that the EU was not living up to its promises, leading to increasingly disgruntled and threatening rhetoric from Ankara.
The EU demands that Ankara must first meet a list of conditions before the visa-free regime or any further integration can be enacted. The bloc has been critical of the human rights situation in Turkey, which further deteriorated after the failed July 2016 coup. The suppressed coup attempt was followed by tens of thousands of people, ranging from soldiers to teachers, being arrested or fired from their jobs.
Ankara, however, has repeatedly rejected the EU's "lecturing" on human rights, in turn accusing Europe of violating the rights of Turks, such as in the case of the recent diplomatic spat over pro-Erdogan rallies canceled or prevented in Europe.
FOLLOW TREND: Turkey in political spat with EU countries over referendum rallies
You can share this story on social media: