'Red line must not be crossed': Germany's top judge on Ankara Nazi taunts
Published time: 25 Mar, 2017 17:28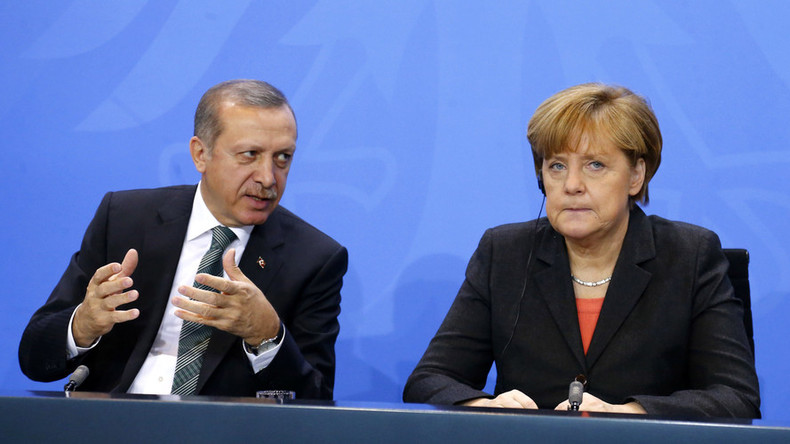 German Federal Constitutional Court Judge Andreas Vosskuhle has voiced concerns over the Nazi taunts continuously being used by Turkish politicians amid a deepening row over the cancellation of Turkish rallies in several European countries.
"We know it from our own experience that provocative statements are often used during election campaigns. But there is a red line that must not be crossed," he said in an interview with Abendblatt newspaper, published on Saturday.
"I can completely understand the federal government if it makes it clear that it does not accept any further Nazi comparisons," he said, adding that such remarks are appropriate only in regards to the victims of the Nazi dictatorship and are out of place in other cases.
Erdogan has been up in arms with German and other European officials over the cancellation of political rallies for Turkish ex-pats due to have taken place earlier in March. The speakers were going to promote the upcoming mid-April referendum on constitutional changes that could see Erdogan's presidential powers expanded.
"It is part of the federal government's foreign policy to allow or prohibit such appearances by Turkish state organs," Vosskuhle said, adding that they "must comply with our legal system in their performances."
Earlier this week, Turkish President Recep Tayyip Erdogan pledged to keep calling European leaders "Nazis" as long as they keep referring to him as a "dictator."
"How does that work, you have the right to call Erdogan a 'dictator' but Erdogan doesn't have the right to call you 'fascist' and 'Nazi?'" he said in an interview with CNN-Turk and Kanal D television channels.
"They accuse me then they speak of Erdogan as a 'dictator.' So I'll continue to address them in these terms," he said, as cited by AFP.
At a rally in Istanbul on Sunday, his biting criticism was addressed directly at German Chancellor Angela Merkel. "When we call them Nazis, they get uncomfortable. They rally together in solidarity. Especially Merkel," he said.
"Merkel... She backs [the Netherlands], too. You too are practicing Nazi practices. On whom? On my Turkish brothers and sisters in Germany," the outspoken Turkish leader said.
Erdogan went as far as to warn that people in Europe would not be able to "walk safely" on the streets if they did not change their current attitudes.
"If Europe continues this way, no European in any part of the world can walk safely on the streets. We, as Turkey, call on Europe to respect human rights and democracy," Erdogan said in Ankara on Wednesday, Reuters reported.
Germany's new president, Frank-Walter Steinmeier, slammed the Turkish president's remarks.
"President Erdogan, you are jeopardizing everything that you, with others, have built," he said, urging the Turkish leader to immediately "end the unspeakable Nazi comparisons!"
Erdogan in turn said he "deplored" Steinmeier's comments.
"German President Steinmeier made a statement targeting me although we are good friends. I deplore him for his statement. I wish he had never made such a statement," he said, Turkey's Hurriyet news reported.