US warships 'harassed' by Iranian forces in Strait of Hormuz – navy commanders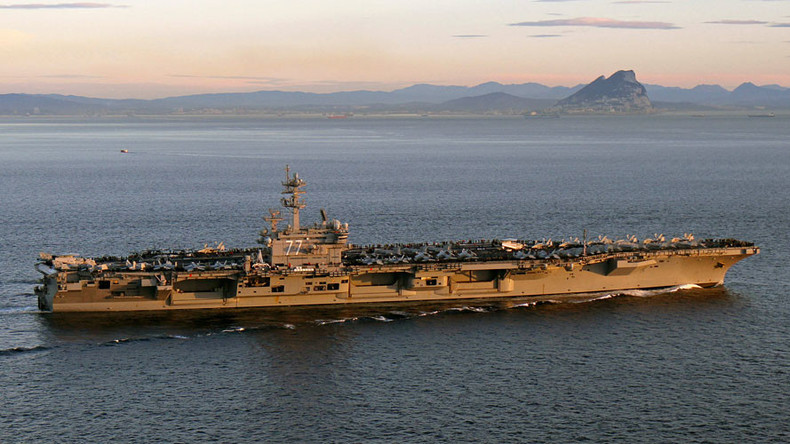 American warships were "harassed" by Iranian forces in the Strait of Hormuz, according to US Navy commanders, who said the Iranians had their weapons uncovered, manned, and armed. It comes amid already tense relations between Tehran and Washington.
The incident occurred on Tuesday as a US-led, five-vessel flotilla, which included the aircraft carrier 'USS George H.W. Bush', passed through the waters on its way to the Persian Gulf (Arabian Gulf).
According to the commanders, the flotilla was approached by two sets of Iranian Navy fast-attack boats, some of which came as close as 870 meters (950 yards) from the aircraft carrier.
"What I don't like about that is they (Iranian boats) were in the middle of international transit waters (while) we had a right to be there as we were exercising freedom of navigation on our way into the Arabian Gulf," Rear Admiral Kenneth Whitesell, commander of the Carrier Strike Group 2, told journalists aboard the aircraft carrier, as quoted by Reuters.
"They also had weapons uncovered as some of the cameras were able to tell. They had some of the weapons manned. We also have aerial data that they were arming all of these weapons."
Whitehall said Iran claimed the US-led flotilla – which also included a Danish frigate and a French destroyer – had breached its international territorial waters. The commander denied that assertion.
Responding to the Iranian Navy, US forces deployed helicopter gunships from the 'USS George H.W. Bush' to hover over the speedboats. One of the helicopters was threatened by Iran, according to Captain Will Pennington, the commanding officer of the 'George H.W. Bush', adding that it was "certainly unprofessional behavior."
The incident ended without a shot being fired, and the vessels continued on their way to the northern part of the Gulf to participate in US-led airstrikes against Islamic State (IS, formerly ISIS/ISIL) in Iraq and Syria. According to Pennington, the behavior of Iran's navy has become "more aggressive and less predictable," essentially presenting "a risk to the merchant traffic that's around us [US Navy]."
Tense relations
It comes less than three weeks after Iran's Revolutionary Guards said a US Navy ship changed course toward Iranian vessels in the Strait of Hormuz, accusing Washington of "unprofessional actions...(that) can have irreversible consequences."
Speaking of the incident to Reuters, an official said that multiple Iranian fast-attack vessels had come within 550 meters (600 yards) of the tracking ship 'USNS Invincible', forcing it to change direction.
In January, a US destroyer fired three warning shots at four Iranian fast-attack vessels near the Strait of Hormuz after they approached at high speed and apparently disregarded numerous requests to slow down.
Located between the Gulf of Oman and the Persian Gulf, the Strait of Hormuz is a strategic waterway through which 30 percent of global oil exports pass annually.
Donald Trump's administration has already butted heads with the Islamic Republic, referring to it as the "number one terrorist state." The US leader has also said that military options are not off the table when it comes to Iran, responding to a missile test by Tehran.
The already tense relations between the two countries were worsened by Trump's recent travel ban, which bars citizens from six Muslim-majority countries – including Iran – from entering the US. The ban was halted by a US federal judge and is awaiting a May 8 appeals court hearing.
You can share this story on social media: