Iran says its missile test 'not a message to Trump'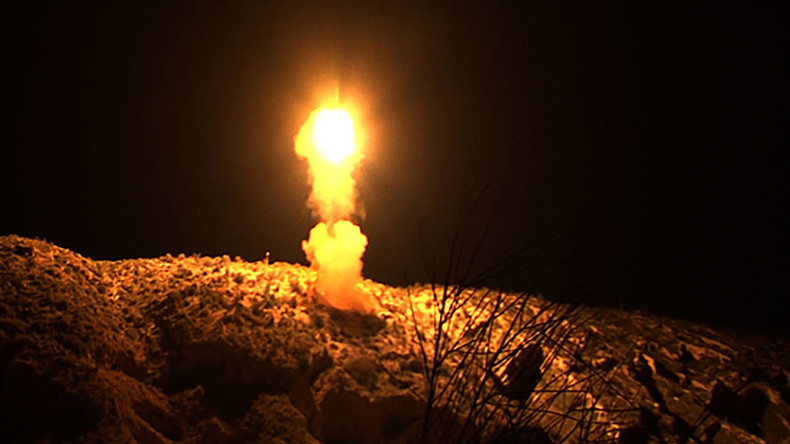 Iran's recent missile test is not a message to Donald Trump and his administration, Iran's Foreign Ministry said, adding that Tehran doesn't need to test the US president, as it knows him "quite well."
Iran conducted missile and radar tests in an area covering 35,000 square kilometers in Semnan Province on Saturday. The drills were held to "showcase the power of Iran's revolution and to dismiss the sanctions," according to a statement from the Revolutionary Guards, a branch of Iran's Armed Forces.
"Iran's missile test was not a message to the new US government," Iranian Foreign Ministry spokesman Bahram Qasemi (Ghasemi) said on Monday, as cited by Reuters. "There is no need to test Mr. Trump as we have heard his views on different issues in recent days... We know him quite well," he said.
According to Qasemi, Washington is "still in an unstable stage" and Trump's remarks are "contradictory."
"We are waiting to see how the US government will act in different international issues to evaluate their approach," he said.
Also on Monday, Hamid Aboutalebi, deputy chief of staff of Iran's president, Hassan Rouhani, took to Twitter to call on Washington to "de-escalate regional tension." The US government should "interact with Iran," he stressed.
Tensions between Washington and Tehran escalated in late January after an unnamed US official told Reuters that Iran had test launched a medium-range ballistic missile. Iran later confirmed it had tested the missile, maintaining that the launch was part of its plans and did not violate the nuclear deal.
"The recent test was in line with our plans and we will not allow foreigners to interfere in our defense affairs," Iranian Defense Minister Hossein Dehghan told Tasnim news agency, while stressing that "the test did not violate the nuclear deal or (UN) Resolution 2231."
On Friday, the US imposed fresh sanctions related to Iran's missile program, blacklisting 13 individuals and 12 businesses. Trump then tweeted: "Iran is playing with fire – they don't appreciate how 'kind' President Obama was to them. Not me!"
Iran is playing with fire - they don't appreciate how "kind" President Obama was to them. Not me!

— Donald J. Trump (@realDonaldTrump) February 3, 2017
Iranian Foreign Minister Javad Zarif responded on Twitter, saying that Iran was "unmoved" by US threats and "will never initiate war."
READ MORE: Iran is biggest state sponsor of terrorism – Pentagon chief Mattis

On Saturday, US Defense Secretary James Mattis called Iran the world's "biggest state sponsor of terrorism," but added he saw no need "to increase the number of forces we have in the Middle East at this time."
You can share this story on social media: