Netanyahu to Putin: Israeli airstrikes in Syria will continue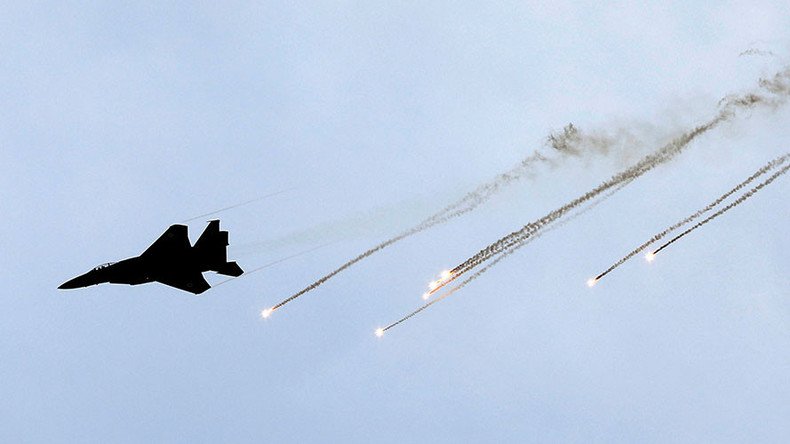 Israeli Prime Minister Benjamin Netanyahu said that he has told Russian President Vladimir Putin that Israeli forces will continue airstrikes in Syria if they deem it necessary.
"If there is feasibility from an intelligence and military standpoint – we attack and so it will continue," Netanyahu said during a visit to China, adding that he had informed Putin of Israel's intentions.
According to the Jerusalem Post, the Israeli PM also dismissed reports that Russia was insisting that Israel cease its military operations on Syrian territory.
Russia's Foreign Ministry says that Moscow is relying on Israel keeping in line with agreements reached during Netanyahu's state visit to Russia earlier this month, when he held extended discussions on Syria with President Vladimir Putin.
"We will judge not by their statements, but by their actions, to what extent our Israeli partners are sticking to these agreements," said Russian Foreign Minister Sergey Lavrov in Moscow on Wednesday.
On Monday, Syrian President Bashar Assad told visiting Russian MPs that he is counting on Russia to prevent further Israeli attacks on Syrian soil and to help Damascus avoid a full-blown conflict with Tel Aviv.
The same day, Russia's Foreign Ministry summoned the Israeli ambassador to Moscow, Gary Koren, to demand explanations for the airstrikes Israel conducted near the Syrian city of Palmyra on Friday morning. Israeli Defence Force (IDF) warplanes hit several targets near Palmyra, allegedly destroying advanced arms provided to the Lebanese militant movement Hezbollah.

Syria's air defense force fired anti-aircraft missiles at the Israeli planes as they were returning to base. Syrian media reported that one plane was downed, while Israel denied any losses.

Israel also said that it shot down one of the interceptor missiles with its Arrow long-range SAMs, which saw the first-ever use of the system in battle.
After the incident, Israeli Defense Minister Avigdor Lieberman threatened that "next time, if the Syrian aerial defense apparatus acts against our planes, we will destroy it."
READ MORE: Syria claims Israeli jet shot down after strike near Palmyra, IDF says all aircraft undamaged
In January, Damascus accused Tel Aviv of bombing the Mezzeh military airport west of the country's capital. The airport was rocked by multiple explosions, with ambulances rushing to the scene.

The IDF has violated Syrian air space on a number of occasions, even before the conflict broke out in the country back in 2011.

Possibly the most infamous incident occurred in 2007 when an alleged Israeli raid destroyed a suspected nuclear reactor in Syria's Deir ez-Zor governorate.
You can share this story on social media: