Teargas in West Bank as Palestinians decry death by Israeli forces working with local police (VIDEO)
Published time: 13 Mar, 2017 04:43
Edited time: 13 Mar, 2017 06:20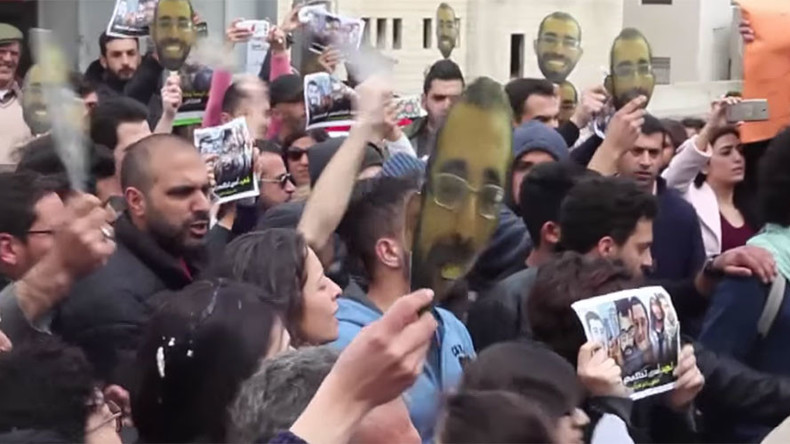 Riot police have used tear gas, batons and sound grenades to disperse a rally in Ramallah on Sunday. The protest was prompted by the death of an anti-occupation activist during an Israeli raid, linked by protesters to security cooperation between Israel and Palestine.
Dozens of demonstrators gathered outside a courthouse in the occupied West Bank capital of Ramallah on Sunday as it was about to pronounce a decision in the case of six Palestinians, charged with possessing weapons and plotting attack against Israel.
One of the six suspects, that had been arrested by Palestinian security forces outside Ramallah in April last year, 31-year-old Palestinian activist Basil al-Araj, was shot dead as Israeli forces stormed into his apartment near the city on March 6. Basil's killing, viewed by his supporters as an "assassination," sparked a wave of protests in the West Bank that continued throughout the week, with their participants blaming his initial arrest and subsequent killing on the tight security coordination between Tel Aviv and Ramallah and demanding that charges be dropped against the remaining suspects.
However, to the disdain of the demonstrators, the court upheld the charges against the suspects scheduling the trial to April 30, and only terminated proceedings with respect to Araj because of his death. The participants of the rally were chanting "Security cooperation is treason," according to the Jerusalem Post, with some accusing the Palestinian forces of being "spies."
As tensions were flaring up, police intervened to break out the rally. As result of the ensuing altercation at least 11 demonstrators received injuries, according to Maan News agency, including several journalists and father of Araj, Mahmoud al-Araj, who was then hospitalized.
The equipment of several news channels was also smashed in course of the clashes.
PA Security Forces attack martyr Basil al-Araj's fatherj during demonstration against the trial of Basil at the Ramallah Magistrate's Court pic.twitter.com/30eUAcVyFi

— Quds News Network (@QudsNen) March 12, 2017
Following the fracas, the protesters accused police of subverting a peaceful rally, with lawyer and a human rights advocate Farid al-Atrash, who was in the crowd at the court, calling its conduct a "crime" and "a dark day" in terms of human rights in the West Bank.
"What happened today was planned aggression against participants in peaceful protest," al-Atrash said, as cited by the Jerusalem Post.
Police, however, denied the allegations that it had applied excessive force against the demonstrators, insisting that it had broken out the protest to clear out the street leading to the courtyard blocked by the protestors after they refused to do so voluntarily.
READ MORE: Palestinian jailed for 9 years for hacking Israeli drones & CCTVs to intercept video in real time
"After they refused, the security forces dealt with situation in accordance with the law and worked to reopen the street," Palestinian police spokesman Louay Zreikat said.
Spokesman for Palestian security forces, Adnan al-Dmeiri, in his turn, blamed the demonstrators of provoking division within Palestinians with the protest, calling them "foreign agents" and "mercenaries," as cited Maan News Agency.
Basil al-Araj along with two other Palestinians, Haytham Siaj and Muhammad Harb, were captured by Palestinian security forces on April 8. The men, who were found to be in possession of a gun and arm grenades, were accused of planning an attack on Israelis. Another three suspects, Muhammad Elsalameen, Saif al-Idrissi and Ali Dar al-Sheikh, believed to be their accomplices, were arrested shortly after and placed in custody.
The raids were hailed by Palestinian President Mahmod Abbas at the time as an example of security cooperation between Israel and Palestine.
"Just a couple of days ago, three young men were tracked down and arrested. They were planning an attack. In this context, our security cooperation with Israel is functioning well," Abbas told in an interview to German Spiegel magazine in April last year.
READ MORE: 'Stop Israelis from these crimes': Palestine demands international action over settlements law
However, the suspects remained in custody since no formal charges against them were invoked until a brief hunger strike in September, following which they were charged with possession of unlicensed weapons and plans to launch an attack. All six were then released on bail to await trial. Shortly afterwards, four of the suspects were incarcerated by Israeli authorities while Araj managed to escape and went into hiding, where he was eventually tracked down by the Israeli forces.