'Extrajudicial execution': UN slams 1.5yr sentence for manslaughter of wounded Palestinian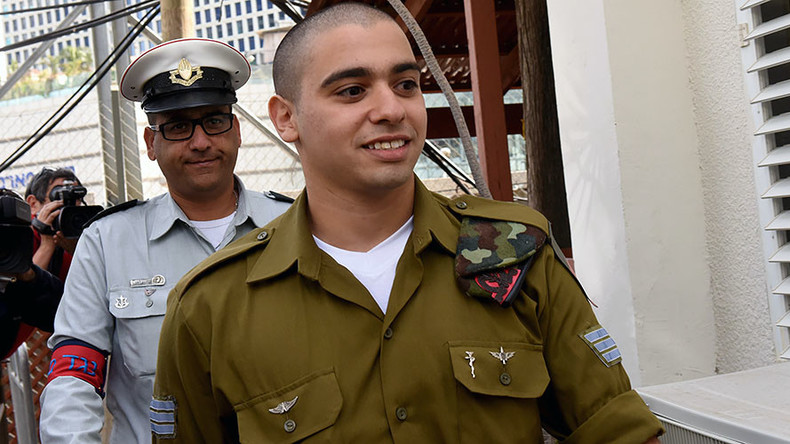 The 18-month sentence handed down by a military court to an Israeli soldier who shot a wounded Palestinian man dead last year was "unacceptable" and "excessively lenient," the UN human rights office has said.
"We are deeply disturbed at the lenient sentence given by the Tel Aviv Military Court earlier this week to an Israeli soldier convicted of unlawfully killing a wounded Palestinian," UN human rights spokeswoman Ravina Shamdasani said.
IDF Sergeant Elor Azaria's act was "an apparent extrajudicial execution of an unarmed man, who clearly posed no imminent threat," Shamdasani added, as cited by Reuters.
In March of 2016, the soldier shot Abdel Fattah al-Sharif Elor, a Palestinian knife attacker, in the head after he had already been incapacitated.
Azaria was found guilty of manslaughter and sentenced to 1.5 years behind bars on Tuesday, despite the prosecutors asking the judge for a three- to five-year punishment.
READ MORE: 'Constant fear': Activist who filmed Israeli soldier shooting Palestinian tells RT of death threats
The verdict caused outrage in Palestine, with government spokesman Tarek Rishmawi telling AFP that the "light ruling… is a green light to the occupation army to continue its crimes."
According to the UN human rights spokeswoman, there's a "chronic culture of impunity" for military crimes against Palestinians in Israel.
"This case risks undermining confidence in the justice system and reinforcing the culture of impunity," Shamdasani said, adding that, under Israeli law, manslaughter can carry a maximum punishment of 20 years.
She also pointed out that, so far, Azaria is the only member of Israel's security forces to have been brought to trial for this type of killing, while over 200 Palestinians were gunned down by Israeli troops since the new spike in violence began in the West Bank in September of 2015.
READ MORE: "You protect us, we protect you': Israel mulls legal immunity extension for IDF soldiers
The 18-month verdict "also stands in contrast to the sentences handed down by other Israeli courts for other less serious offenses, notably the sentencing of Palestinian children to more than three years' imprisonment for throwing stones at cars," the spokeswoman stressed.
You can share this story on social media: