Images of Philippines prisoners sitting naked in contraband raid spark outrage (PHOTOS)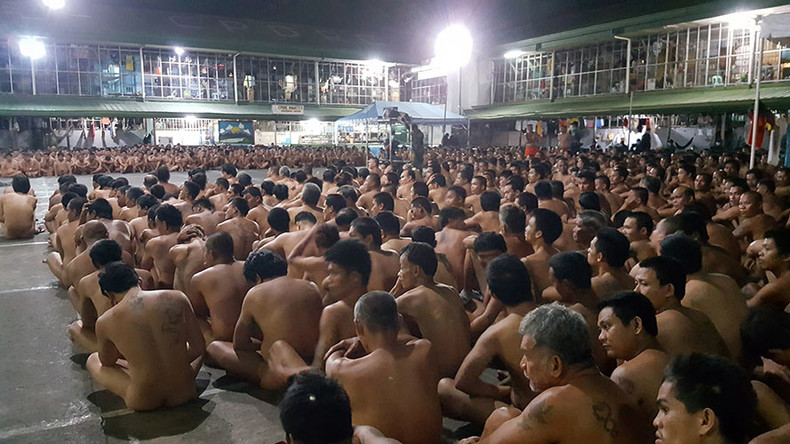 Photos showing hundreds of prisoners sitting naked at a Philippines jail have prompted outrage and even comparisons on social media to World War II concentration camps, with Amnesty International calling the incident "cruel" and "inhumane."
The pictures show inmates at Cebu provincial jail sitting completely naked on concrete, illuminated by spotlights, as armed police stand guard.
The raid took place on Tuesday, with prison officer Rafael Espina telling AFP that the prisoners were awakened before dawn and ushered into the jail's quadrangle. Anti-drug agents, police, and military staff then searched their cells.
The images, which were released by the country's Drug Enforcement Agency, have led to concern from human rights groups.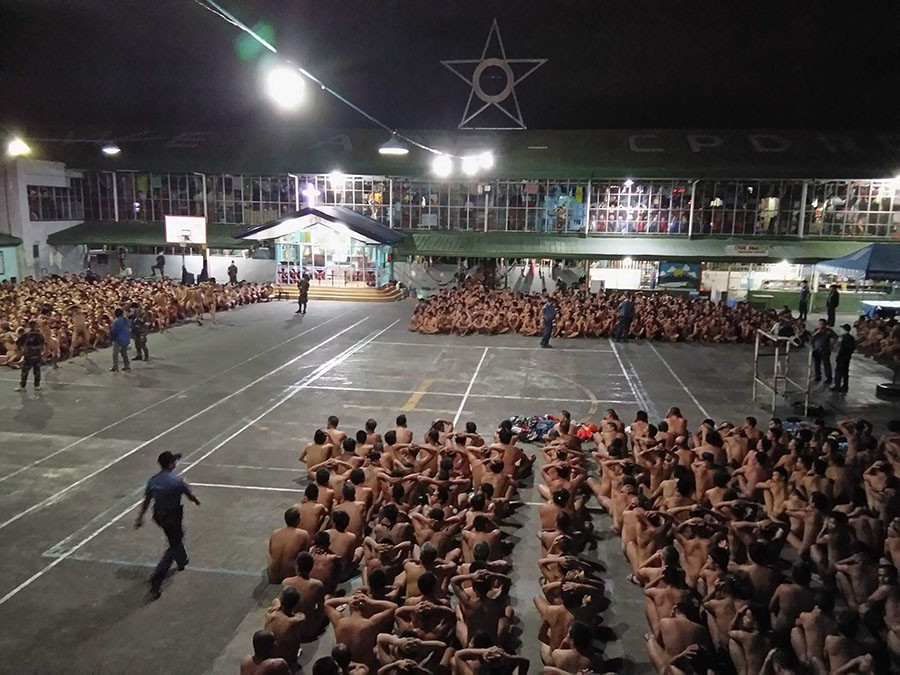 Amnesty said in a statement that the "incident clearly amounts to cruel, inhumane and degrading treatment of prisoners," AFP reported. It went on to cite United Nations and Philippines laws which protect inmates from being subjected to torture or ill-treatment.
That sentiment was echoed by Human Rights Watch (HRW), which said that international standards prohibit searches that intimidate or unnecessarily intrude upon a prisoner's privacy.
"The conduct of these searches – out in the open and permitting photographs to be taken – was inhuman and degrading and violated the prisoners' rights to privacy," HRW is cited as stating.
Some have compared the shocking photos to those taken at concentration camps during World War II.
Meanwhile, the country's Drug Enforcement Agency (PDEA) spokesman Derrick Carreon said the stripping was ordered by the provincial governor and the guards.
"We just provide technical expertise," he said, as quoted by AFP.
Provincial government information officer Jethro Bacolod told AFP that the mass stripping was an "SOP" (standard operating procedure) to detect contraband.
A statement released by the Drug Enforcement Agency said "several packets" of methamphetamines and marijuana leaves were found during the raid, along with knives and mobile phones.
Bacolod said the prison's warden was fired because of the contraband that was found during the raid.
The incident has strengthened concern over President Rodrigo Duterte's "war on drugs," which has led to the deaths of over 7,000 people since June 2016.
The campaign has sparked criticism from governments around the world, including the US and EU, as well as the United Nations. Amnesty said last month that it may amount to crimes against humanity – a report which Duterte shrugged off, claiming that "criminals are not humanity."
The president has been quick to lash out at those who criticize the campaign. In September, he called then-President Barack Obama a "son of a b**ch/whore." He also gave the EU a "f**k you," telling the bloc it was only criticizing his anti-drug campaign in "atonement" for its own sins. He also called then-UN Secretary-General Ban Ki-moon a "devil."
Despite international criticism aimed at the campaign, Duterte has repeatedly vowed to continue until the "last day of his term."