'Wrong from every angle': UNICEF slams proposed Philippines law to jail 9-year-olds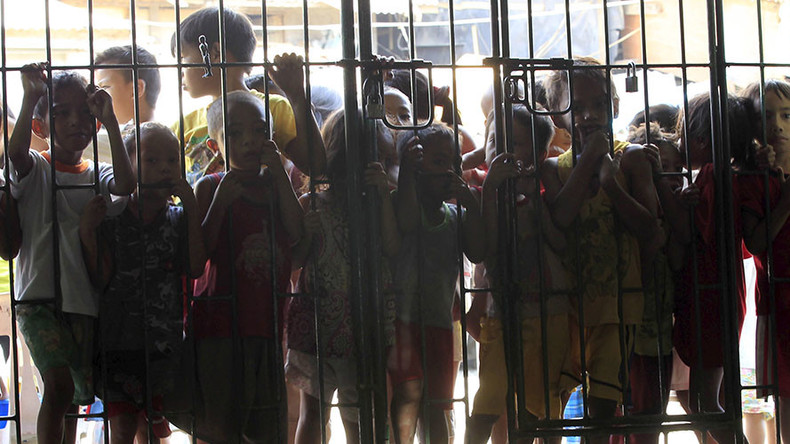 A proposed law that would lower the age of criminal responsibility for Filipino children from 15 to nine is "wrong from every angle," the head of the United Nations children's agency in the Philippines has warned.
"If they grow up spending their teenage years in a prison, they most probably will be damaged for life," UNICEF representative Lotta Sylwander told the Guardian in a telephone interview from Manila.
President Rodrigo Duterte's allies have been pushing for the age of criminal responsibility to be lowered. The draft bill was introduced by house speaker Pantaleon Alvarez, who said the current age of 15 was "pampering … youth offenders who commit crimes knowing they can get away with it."
Another draft bill under consideration aims to restore the death penalty.
Children in the Philippines can be arrested and detained from the age of nine – a law which has affected over 50,000 youngsters since 1995, according to UNICEF.
It's unclear whether lawmakers would seek to apply the death penalty to children.
A nine-year-old child is simply unable to fully comprehend the consequences of a crime, Sylwander said, adding that adults often mastermind the crimes, using children from the streets as their puppets.
"Apart from the fact that it's against human rights, it's very unfair to a child, to punish them in such a harsh way as the criminal system would be, for something that they never understood was that serious," she told the newspaper.
Children will likely end up sharing cells with adult offenders for months awaiting their court decision, Sylwander said.
"The court system is extremely slow so it would take a long time for these kids to be convicted, which means they will basically spend a long time in prison," she said.
According to the UNICEF official, the proposed law will likely make the situation with juvenile crime worse.
"By incarcerating children at such a young age, they in fact become well-trained criminals by being brought up in prisons with other criminals," she said. "It doesn't fix the problem, it's a great child violation and it will be a great burden on the criminal system, an unnecessary burden."
The outspoken Duterte, who came to power in June of last year, has made fighting drug crime a pillar of his presidency, but his methods for combatting it have led to mounting international criticism.
"The violent campaign against drugs has had a devastating impact on children, who have been killed and otherwise harmed during operations," Amnesty International said in a report last month.
"Proposed changes to the Philippine Penal Code, including the lowering of the age of criminal responsibility, threaten to worsen the situation. On a much wider scale, many children are experiencing severe trauma as a result of losing a parent or sibling and often even witnessing the killing; they also face deeper poverty after a breadwinner's death."
Rowena Legaspi, executive director of the Children's Legal Rights and Development Center in the Philippines, told Amnesty that between July 1 and early December 2016, there were between 25 and 27 child deaths as a result of drug-related operations. Of these, two were actual targets; the rest were killed "by mistake," Legaspi said.
Several local human rights activists told Amnesty that children arrested for drug-related offenses are often held in adult detention facilities, in violation of the UN Convention on the Rights of the Child, to which the Philippines is a state party.
Sylwander told the Guardian that Duterte has ignored national police statistics which state that less than 2 percent of all crimes in the Philippines are committed by children under 15.
"It seems he [Duterte] rarely listens to facts, or doesn't find out the facts before he talks," she said. "Yes, children are used as petty sellers ... but why go after the children who do not understand what they are doing instead of going for the big syndicates?
"It seems there is less effort to get the big guys. You shoot the small gangsters or the small drug traders in the slum areas and the poor areas. But there seems to be no real, concerted efforts to get the big drug lords in the country. And there are quite a few," Sylwander said.
The UN Committee on the Rights of the Child states that setting the age of criminal responsibility below 12 is considered "not to be internationally acceptable."
Meanwhile, restorative justice programs can help reduce offending by up to 70 percent, UNICEF says.
You can share this story on social media: