'I don't give a sh*t about human rights' - President Duterte on Philippines drugs war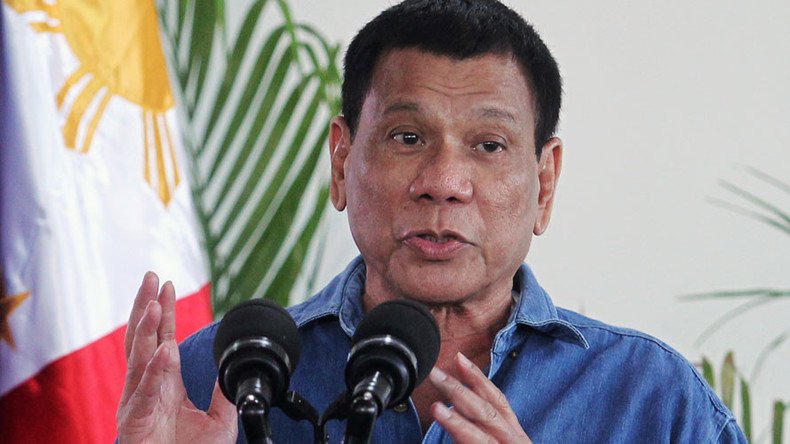 President Rodrigo Duterte says he doesn't "give a sh*t" if his brutal war on drugs in Philippines, which has over 3 million drug addicts, violates human rights.
"We have 3 million drug addicts, and it's growing. So if we do not interdict this problem, the next generation will be having a serious problem," Duterte said in an interview with Al Jazeera.
The president, well-known for his controversial remarks, said "there is nothing wrong in trying to preserve the interest of the next generation."
"You destroy my country, I'll kill you. And it's a legitimate thing. If you destroy our young children, I will kill you. That is a very correct statement."
Duterte said that in the Philippines there is no law that states that he, the president, "cannot threaten criminals."
"I do not care what the human rights guys say. I have a duty to preserve the generation. If it involves human rights, I don't give a sh*t. I have to strike fear because the enemies of the state are out there to destroy the children," he said.
Duterte, also compared the innocent of victims of the war on drugs to the "collateral damage" in the US bombings against militants.
"When you [the US] bomb a village you intend to kill the militants but you kill the children there ... Why do you say it is collateral damage to the West and to us it is murder?"
He also explained to Al Jazeera why his relations with Washington have recently become strained.
"Had America just followed the normal procedure of calling the attention of a country to a certain violation, that would affect the laws of humanity, it could have just followed the due process, which is normally - according to everybody - going to the United Nations, airing a grievance and demanding an investigation," he said.
"It should begin in the internal body of the United Nations because we are, or the Philippines is, a member of the United Nations," he added.
READ MORE: 'I'll play with you in public': Duterte challenges West to confront drugs crackdown
The Philippines is a crucial American ally in South-East Asia, a region witnessing rising Chinese influence. However, relations between the two countries have deteriorated under Duterte's presidency. He has bristled under international criticism over his large-scale anti-drug campaign.
The strain in US-Philippines relations has called into question the Obama administration's planned 'pivot to Asia.' Duterte has threatened to leave the UN completely and form a rival organization with China and other countries.
READ MORE: Rape, Viagra, Obama & Hitler: Philippines President Rodrigo Duterte's craziest quotes
Almost every Duterte speech hits the headlines. Earlier in October, he said that Obama, whom he has previously publicly called a "son-of-a-bitch," should "go to hell." He also promised he will "humiliate" UN, EU and American representatives after inviting them to investigate his drugs war.
Duterte, who was elected president on a promise to crack down on drugs, repeatedly dismissed all criticism of his policies in unflattering terms.
During his election campaign, Duterte admitted to being behind the Davao Death Squad, a group responsible for the deaths of hundreds of alleged petty criminals and drug dealers while he was the mayor of Davao.
Philippine National Police (PNP) statistics seemed to show that over 3,800 people have been killed by either vigilantes or police since Duterte took office in July.
You can share this story on social media: