'Do not treat us like a doormat, you'll be sorry for it' – Philippines President Duterte to US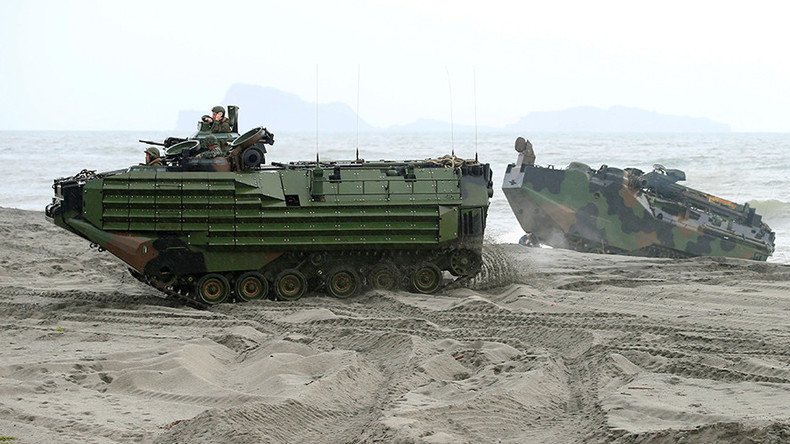 Plans for joint US-Philippines patrols and naval exercises in the disputed South China Sea have been put on hold, and 107 US troops operating drones surveilling Muslim militants will also have to leave the country soon, the Philippines Defense chief said.
President Rodrigo Duterte said he wants an ongoing US-Philippine amphibious beach landing drill to be the last in his six-year presidency, with plans to halt all the 28 military exercises carried out with US forces every year.
"This year would be the last," Duterte pledged on Friday in Davao in the southern Philippines, AP reported.
READ MORE: Rape, Viagra, Obama & Hitler: Philippines President Rodrigo Duterte's craziest quotes
"For as long as I am there, do not treat us like a doormat because you'll be sorry for it," he added. "I will not speak with you. I can always go to China."
Earlier this week, the outspoken Philippines leader said his US counterpart Barack Obama, whom he has previously publicly called a "son-of-a-b***h," should "go to hell."
US State Department spokesman John Kirby said Washington is unaware of any official notification on rolling back the joint military exercises. The US remains committed to its security cooperation with Manila, with which it has a 65-year-old mutual defense treaty, he said.
"We think comments like this, whether they are or will be backed up by actual action or not, are really at odds with the closeness of the relationships that we have with the people of the Philippines and which we fully intend to continue," Kirby told reporters.
Asked to comment on the possibility that the current joint maneuvers will be the last, Major Roger Hollenbeck, a US military spokesman for the drills, gave a fatalistic response: "If it's the last, so be it."
"I have nothing to do with that and we are going to continue to work together; we've got a great relationship," he added.
Experts say the Philippines president's plans to limit the presence of US troops will thwart Washington's intention to beef up US forces in Southeast Asia in order to counter China.
"President Duterte's shoot-from-the-hip style of parochial democracy is deeply troubling," Carl Thayer, an expert on the South China Sea, told AP. "If Duterte moves to curtail US rotational military presence from bases in the Philippines, this would undermine the US ability to deter China not only in defense of Philippines sovereignty, but regional security as well."
Lorenzana told a foreign correspondents' forum on Friday that Manila should probably "re-assess" its relationship with the US and the benefits of the alliance, asserting that the country's military would survive even if Washington were to withdraw its aid completely.
"We can live without (that)," Lorenzana said, Reuters reported. The value of US military aid to Manila is "not that much," the country's Defense chief added, insisting that military officials could ask the Philippines Congress to make up for a $50-$100 million shortfall a year in aid from Washington.
The Philippines is a crucial American ally in South East Asia, serving as a guard against Chinese influence. However, relations between the two countries have deteriorated under Duterte, who has bristled under international criticism over his large-scale anti-drug campaign.
The strain in US-Philippines relations has called into question the Obama administration's planned 'pivot to Asia,' as Duterte has threatened to leave the UN completely and form a rival organization with China and other countries. China and the Philippines also have a tense relationship due to disagreements on sovereignty over parts of the South China Sea.
You can share this story on social media: