Journalist who took up right-wing invite to Sweden 'escorted by police out of Rinkeby' (VIDEO)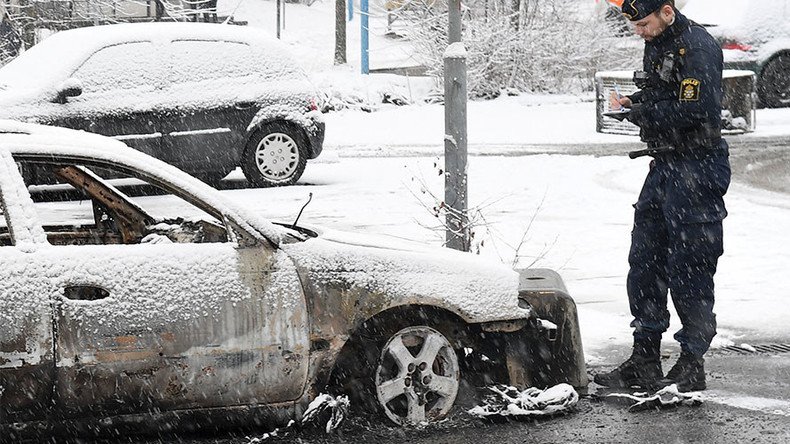 A US journalist who accepted an invite by a right-wing news editor to visit "crime-ridden migrant suburbs" in Sweden has claimed he was escorted out of the Rinkeby area of Stockholm by police. Tim Pool is investigating claims of migrant-related violence.
Rioting and looting erupted in Rinkeby last month after police reportedly arrested a wanted person at a metro station. Several cars were burnt out and a police officer and a press photographer were injured in the disturbances.
READ MORE: Dramatic footage shows cars ablaze in Swedish riot
Pool tweeted this latest incident saying several men put on masks and followed him before police escorted him out of the area. In a video Pool said he was warned by the police that "it would get really dangerous if we don't leave Rinkeby."
Journalist Emily Molli, who is travelling with Pool, claimed the pair asked police if they could interview a local but were told it would lead to trouble.
Speaking to The Local, Stockholm Police said they were unable to find any reports relating to the incident but would continue to investigate.
Pool's visit to Sweden was partially funded by Infowars Editor-At-Large Paul Watson in response to the widespread ridiculing of US President Donald Trump, following his comments about a specific, but apparently non-existent, migrant-related incident.
Watson tweeted that he would pay travel costs for journalists "to stay in the crime-ridden migrant suburbs of Malmo". The effort backfired somewhat when thousands of people jumped at the chance of a free trip to the Sweden.
READ MORE: Journalists mock right-wing editor's offer of free trip to 'crime-ridden' Swedish city
Pool visited Malmo over the weekend where he interviewed locals and was given a guided tour by municipal council member Nils Karlsson.
"I want to show the true picture of Malmö – without denying that there there are problems, poverty and challenges. But also to show that 330,000 people live in this city and most do not engage in crime or violence or kill each other," Karlson told reporters.
Pool did not find what Watson promised, instead commenting: "If this is the worst Malmö has to offer, then don't ever come to Chicago."
You can share this story on social media: