Germany saw up to 10 anti-refugee assaults a day in 2016 – official figures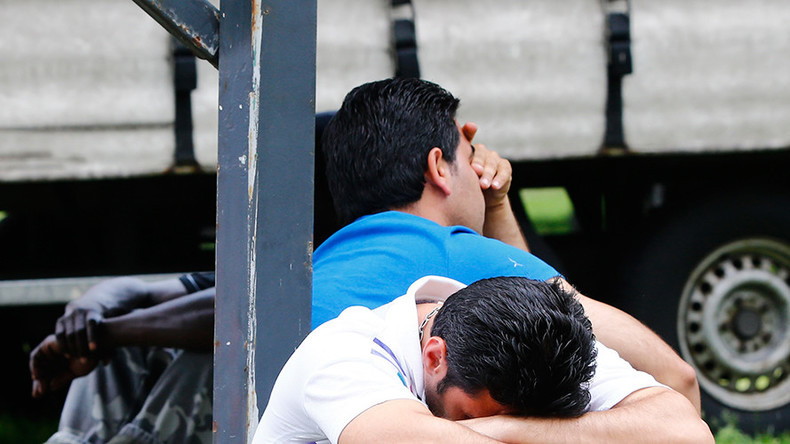 More than 2,500 refugees were attacked in Germany last year, with roughly 10 assaults a day, according to a report by the interior ministry seen by AFP.
The attacks left 560 people injured, 43 of them children, the interior ministry revealed in a written reply to a parliamentary question, AFP reported, citing the document.
"People who have fled their home country and seek protection in Germany have the right to expect safe shelter," the letter seen by the news agency said.
Around one million asylum-seekers from war-torn states in the Middle East arrived in Germany in 2015, after German Chancellor Angela Merkel announced her "open-door" policy.
In total, more than 3,500 attacks against refugees and migrants were reported in 2016, the ministry said, citing police statistics.
There were also nearly 1,000 instances of shelters for refugees and asylum-seekers being targeted, including arson attacks.
Ulla Jelpke, a lawmaker for left-wing Die Linke party, blamed the "everyday racist violence" on far-right extremists.
"Do people have to die before the rightwing violence is considered a central domestic security problem and makes it to the top of the national policy agenda?" she told Germany's Hamburger Abendblatt newspaper. "Nazis threaten refugees and thus our democracy," she added.
Earlier this month, two refugee facilities located in separate parts of Germany caught fire in the course of one day, local media reported. In one case, an arson attack was suspected.
READ MORE: 2 refugee centers in Germany go up in flames, 1 suspected arson (VIDEO)
In early February, a local politician of the far-right NPD party, Maik Schneider, was sentenced to eight years in jail for burning down a sports hall that was due to house refugees, causing damage worth 3.5 million euros ($3.7 million), AFP reported.
The court in Potsdam, Germany said the attack was motivated by hate.
"The attack was meant to signal to refugees: you are not welcome here, we don't have space for you, you aren't safe here," Judge Theodor Horstkoetter stated.
Schneider denied racist motives, telling the court he had only meant to char the building and not burn it to the ground.
READ MORE: Blaze engulfs planned refugee center in Germany – crowd cheers, hinders firefighting (VIDEO)
In February of last year, a planned refugee center in Bautzen was badly damaged after a huge blaze ripped through the building – much to the delight of onlookers, who cheered and tried to prevent firefighters from extinguishing the flames.