Germany proposes 'energizing' deportations from EU during mass refugee influx – leaked doc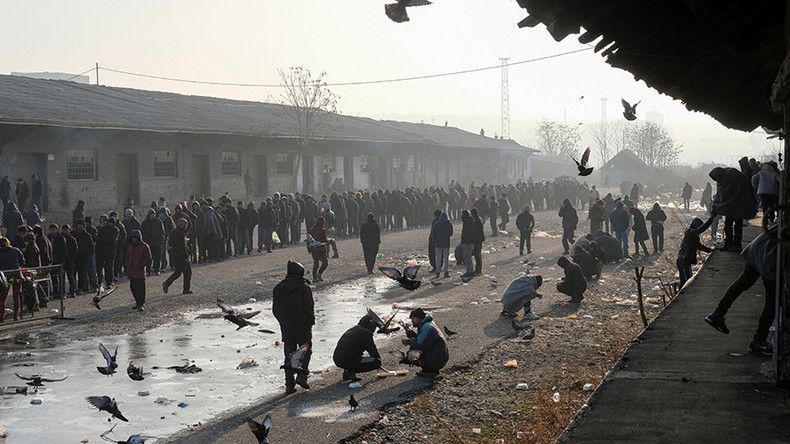 Berlin has reportedly suggested that the EU relax some human rights provisions on refugees to deport more asylum seekers at times of a "mass influx."
A working paper proposed by German officials is meant to accelerate deportation of new arrivals in case of a renewed influx of refugees to the European Union, according to Reuters which has seen the document.
"This is another element in efforts to energize readmission of people to wherever they came from," a Brussels-based diplomat was cited by the news agency.
According to EU human rights laws, economic migrants may be sent back at any time, but asylum seekers awaiting processing of their applications can only be deported to specific countries declared "safe." Such countries must safeguard returnees from threat or persecution; provide humane reception conditions, as well as at least partial access to healthcare, education and employment.
Some parts of the current EU provisions "clearly exceed" the necessary minimum set out in the Geneva Convention on Refugees and the European Charter of Fundamental Rights, the German proposal said. While not specifying parts of the refugee legislation that might be abandoned, it adds that deporting refugees en masse would still be ruled out.
For the time being, the 28-member bloc can return asylum seekers under a controversial 'one in, one out' agreement signed last year between Brussels and Ankara amid massive influx of refugees into Europe. The scheme, full of complex moral and legal issues, stipulates that one refugee stranded in the EU will be returned to Turkey and another asylum seeker in Turkey will be allowed to come to Europe in exchange.
The refugee deal – met with stark criticism by rights groups and humanitarian organizations – has nonetheless helped stem the flow of people into the continent, and the German paper cites it as a blueprint for future policies.
If introduced, the measure would include deportations to other countries south of the Mediterranean Sea, such as Libya, Tunisia or Egypt, diplomats in Brussels told Reuters. Notably, certain areas of countries otherwise deemed dangerous might be recognized as "safe zones" fit for accommodating the returnees.
"This is not about building a 'Fortress Europe'. It is about combating illegal immigration, which has already cost the lives of thousands, and about replacing it by a regulated system of legal admissions, combined with humane living conditions, assured by the EU in third countries," the document said, adding that the proposal would also be instrumental in "discouraging people-smugglers."
EU agencies offered no comment on the report so far, but a spokesman for the French mission to the bloc has already denied any involvement in developing such a proposal.
"France categorically denies having worked on such a document," the spokesman told Reuters later on Tuesday.
Germany, one of primary destinations for hundreds of thousands of migrants, has advocated tougher stance on refugees as their numbers skyrocketed in 2015. It is now easier to deport failed applicants while guidelines for granting asylum or a residence permit have been tightened.
At the EU level, Berlin championed an idea of funding refugee camps outside the bloc to prevent people from crossing the Mediterranean.
"The idea is to send them to a safe place, without bringing them into Europe," German Interior Minister Thomas de Maiziere explained at an EU ministerial meeting in late January.
According to the German minister, "the people taken by the smugglers need to be saved and brought to a safe place." He stressed, however, that from there "only those who require protection" would be forwarded to Europe.
You can share this story on social media: