Blaze engulfs planned refugee center in Germany – crowd cheers, hinders firefighting (VIDEO)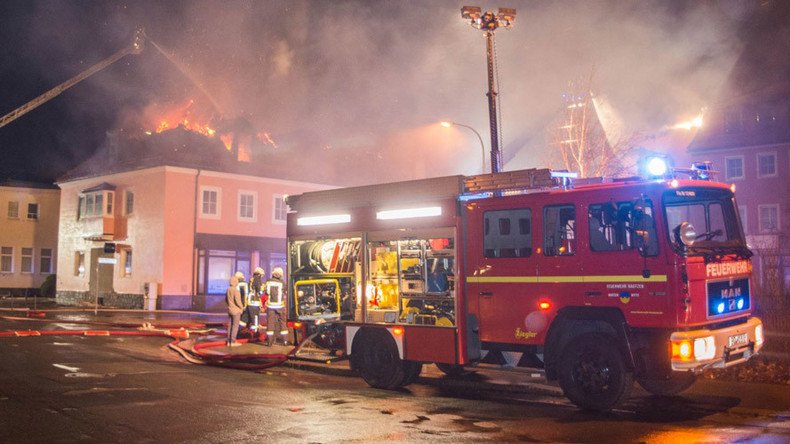 A planned refugee center in Bautzen in the German state of Saxony was badly damaged after a huge fire ripped through the building much to the delight of onlookers, who cheered and tried to prevent firefighters from extinguishing the flames.
"In the early hours of Sunday a fire broke out at the Husarenhof , which is currently under reconstruction and planned to be used as a refugee center in the future," Thomas Knaup, Bautzen Police spokesperson, told RT's Ruptly video agency.
Previously, Husarenhof was a hotel and restaurant.
There were no casualties as a result of the incident as the building was empty due to the time.
"The causes of the fire are still not clear," Knaup said, adding that a criminal investigation has been initiated.
The locals in Bautzen, who oppose a refugee center in their town, were clapping in cheering as the fire destroyed the building, Deutsche Welle reports citing local authorities.
"Some people reacted to the arson with derogatory comments and undisguised joy," police also said in a statement, adding that some of the onlookers had been under the influence of alcohol.
The 60 firefighters working on site required protection from the police as people attempted to prevent the fire from being extinguished.
"Two 22-year-old citizens of Bautzen were detained because they disrupted the work of firefighters and confronted police officers. Moreover, the police issued a restraining order against a third, 19-year-old person," Knaup stressed.
There were more than 1,000 arson attacks on planned and completed refugee shelters across Germany last year, according to Deutsche Welle.
On Friday, a crowd blocked a bus carrying refugees in another Saxony town of Clausnitz, shouting anti-migrant slogans, including "we are the people!" and "go home!"
Saxony's chief minister, Stanislaw Tillich, condemned the two incidents, calling them "disgusting and hateful."
READ MORE: Video of mob threatening, chanting at refugees shocks German officials
Around a 1 million asylum seekers from war-torn states in the Middle-East arrived in Germany in 2015 as Chancellor Angela Merkel announced a "welcome" policy.
The positive public attitude towards the newcomers started to change after refugees were blamed for numerous sexual assaults and disrespecting German culture.
You can share this story on social media: