Iraqi forces discover ISIS chemical weapons arsenal in Mosul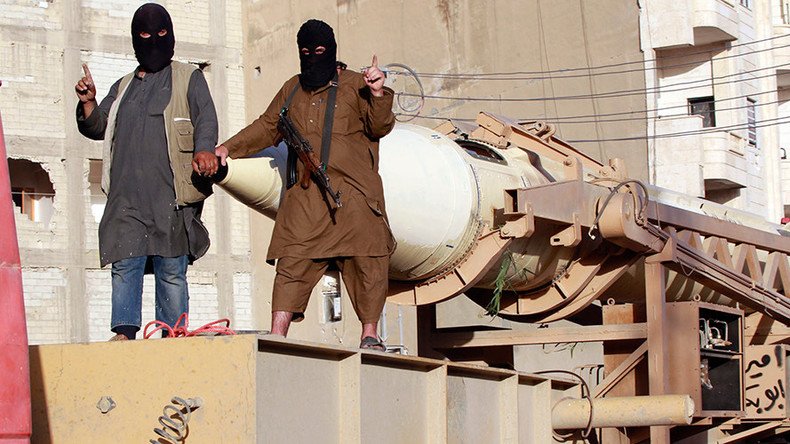 French and Iraqi forces have uncovered a mustard agent and missiles in an area formerly controlled by Islamic State (IS, formerly ISIS/ISIL) during a sweep of eastern Mosul.
The mustard agent was found in an abandoned storage area near the historic Nineveh ruins, AP reported, hoping to avoid attracting attention from locals.
In a warehouse 2 kilometers (1.2 miles) away from the Tigris river, reporters were shown three large refrigerated cargo containers holding an unidentified substance hidden among piles of coal, which upon further analysis was found to be mustard agent. There was also more than a dozen surface-to-surface rockets bearing Russian inscriptions.
"We know that they were using this place to experiment with chemical weapons," Iraqi special forces Brig. Gen. Haider Fadhil said.
The strength and potency of the chemical weapons that could be produced at the warehouse is still unknown, although, and despite the risk of contamination, Iraqi soldiers who entered the site for about ten minutes didn't suffer any ill effects.
Earlier in January, troops involved in the liberation of Mosul University found that a dormitory there had been converted into a makeshift chemical weapons factory, using equipment and ingredients pilfered from the College of Sciences, including radioactive material. Specialists had to be called in to decontaminate the area.
While all sides in the Syrian conflict have been accused of using chemical weapons, Iraqi and US officials have been particularly concerned about their use by IS. In November, a report by the risk analysis company IHS claimed IS used chemical weapons in Syria and Iraq at least 52 times since 2014.
However, the number of civilians killed by chemical weapons by IS is still low compared to more conventional means such as bombs and bullets, as the terrorist group lacks the capacity to make more advanced weapons.
Since October 2016, Mosul has been besieged by Iraqi forces, backed by the Kurdish peshmerga, Shiite militias and US-led coalition forces trying to 'liberate' the city from IS.
Prior to its capture in 2014, Mosul was Iraq's second-biggest city but has since been a stronghold of IS militants and one of their key bases of operations outside Syria. On January 22, the Iraqi government declared the eastern part of Mosul 'liberated', but there is no indication yet of when IS will be fully driven out of the city.
You can share this story on social media: