ISIS aims to launch 'mass-casualty chemical attacks' in UK – security minister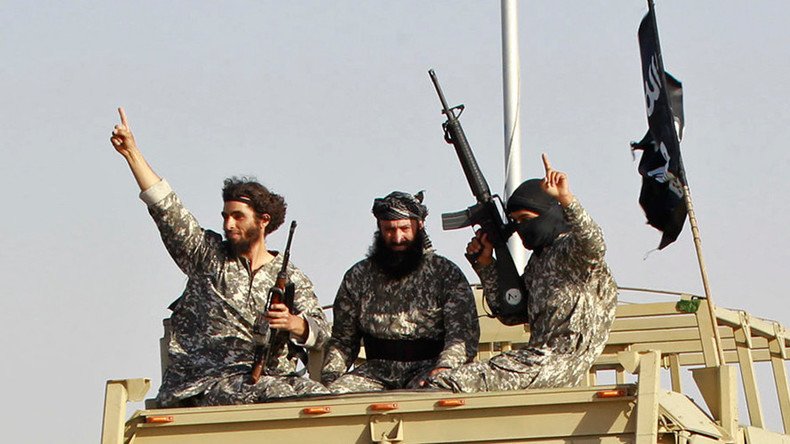 Islamic State militants are keen to launch "mass-casualty attacks" on targets in the UK, as well as overseas, UK Security Minister Ben Wallace said, adding that the terrorists have "no moral objection to using chemical weapons."
"The ambition of IS or Daesh [Arabic acronym of Islamic State] is definitely mass-casualty attacks," Wallace said in an interview with the Sunday Times newspaper, adding that "they want to harm as many people as possible and terrorize as many people as possible."
Some 800 Britons are thought to have travelled to Syria since the outbreak of the civil war, many to join Islamic State (IS, formerly ISIS/ISIL), according to Reuters, citing official figures, which also show around 100 as being killed. A further 150 were prevented from travelling to Syria in 2015, and the figure for 2016 will be "very similar," Wallace said.
"The big concern is if Mosul collapses and all the other bases of Isis collapse. We know there are a significant number of [Britons] fighting for IS in Syria. They will probably want to come home," he warned.
"There will also be those people who wanted to go out there but no longer can get there. Their frustration may boil over," the minister added.
"They have no moral objection to using chemical weapons against populations and, if they could, they would in this country. The casualty figures that could be involved would be everybody's worst fear," he noted, citing the dismantlement of an Islamic State cell in Morocco in February as evidence that the terrorists plan to carry out chemical attacks in Europe.
"Moroccan authorities dismantled a cell involving chemical weapons. They recovered toxic chemical and biological substances and a large stock of fertilizer. The substances found could have been used to produce homemade explosives and could have been transformed into a deadly toxin," Wallace said, adding that UK security chiefs had recently held exercises to deal with the country's "worst fear."
The report said that, while no specific plot to unleash chemical weapons had been identified, security services had, nonetheless, been carrying out exercises to prepare for the possibility.
The Organization for the Prohibition of Chemical Weapons (OPCW) has previously confirmed reports that IS had been using chemical weapons against Kurdish forces in northern Iraq throughout 2015. It also confirmed that mustard gas had been deployed in neighboring Syria in 2015, saying "with the utmost confidence that at least two people were exposed to sulfur mustard [on August 21]" in the town of Marea, north of Aleppo. "It is very likely that the effects of sulfur mustard resulted in the death of a baby," it added.
The sulfur mustard gas that was used in terrorist attacks in Syria and Iraq might have been manufactured by Islamic State on its own, Ahmet Uzumcu, head of OPCW, said in November.
The OPCW experts analyzed samples of mustard gas employed in the August 2015 attack and found that there's grounds to believe "this substance may have been produced by ISIS itself," Uzumcu told AFP. The officials said the terrorist-made substance was of "poor quality, but still harmful," noting that it was an "extremely worrying" development.
Europol warned last month, citing intelligence sources, that there is evidence that IS has shown an interest in using chemical and/or biological weapons.
"IS is known to have used sulphur mustard gas in Syria and is thought to be able to produce the gas itself. IS is believed to include people who were formerly engaged in Iraq's weapons program and it is assumed that the group has access to Iraqi and Libyan storage sites of chemical weapons. In addition, there are indications that IS is experimenting with biological weapons," the report states.
You can share this story on social media: